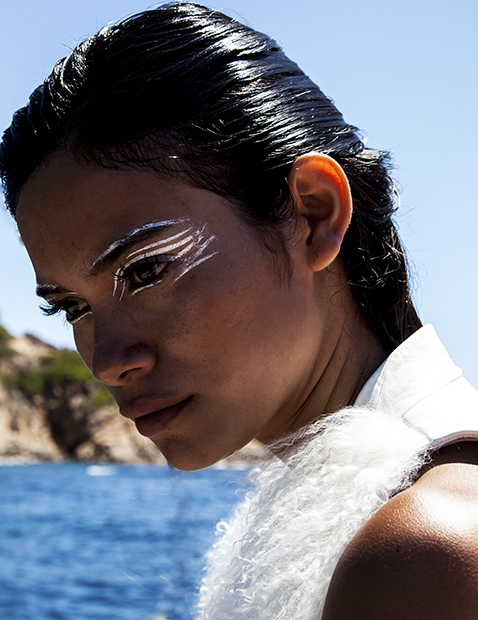 NOMAD GODDESS IS JUANITA BURGA
Juanita is wearing nothing by a sheer bronzer that emphasises her beautiful skin , and gives her an even complexion, throughout the day. She is in no need of major makeup, so a tinted moisturiser will do the job.
Her eyebrows are as virgin as a virgin margarita, no one has touch them ever , and that´s a key point if you want to look fresh and young.
YSL , again , does the beauty ritual by giving us their latest colours in the market. Just an overall coat of MATT TOUCH COMPACT FOUNDATION to even out her skin, in shade No.9.
TOUCH ECLAT No.4 all over the face to even out the minimum imperfections, and a touch of YSL LIP BALM in a clear shade, to pump JUANITA´s youthful lips.
THE TOUCH : GIVENCHY LIQUID EYELINER, this product was given to Sergio, so many years ago when he was a little makeup assistant , and makeup artists were payed in product. Well , this product had the staying power to remain intact even though it went through so many years. It performed a really interesting lines on Juanita´s eyes , creating the NOMAD LOOK that Sophie was looking for her in the shoot.
JUANITA BURGA  is wearing an exclusive fur vest custom made  by STROKE, and only available at ATLF PARIS.
#ysl #stroke #makeup #furvest #strokeworld #juanitaburga #beauty