SOPHIE LEVY & SERGIO CORVACHO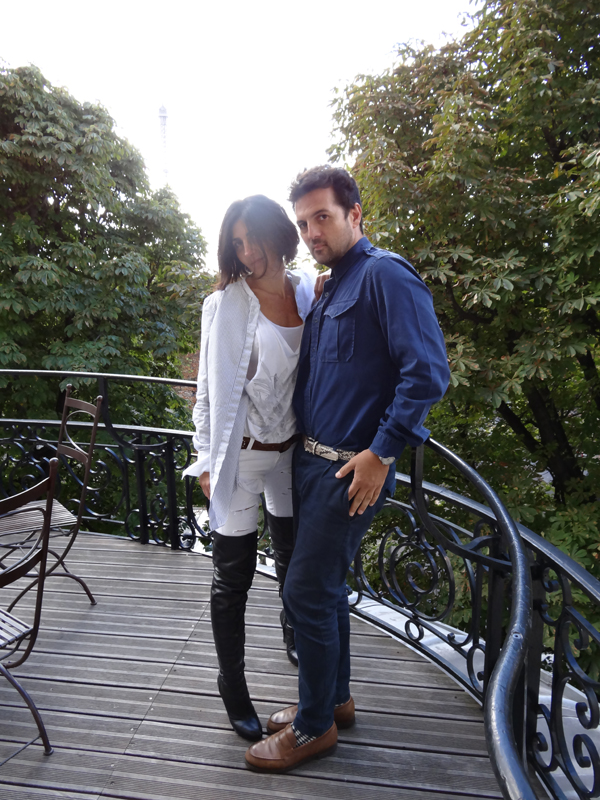 Sophie Levy represents the  story of an extraordinary passion that combines fashion and style, she is one of the most influential fashion gurus in Paris , and she can take you right away in a flight of fantasy that involves a technique on how to look good and at the same time to be coherent with the trends of the moment.
Much more than just a luxury concept store To ATLF offers each season a carefully edited and handpicked selection.
With her discerning eye and flair for upcoming trends, Sophie Levy scrutinizes each parade as a fashion journalist.
She attends the most prestigious shows in Paris, London, Milan and New York in order to seize their essence.
Her unique vision and experience in fashion are reflected in To ATLF.
With this blog , Sophie Levy wants to share her unique experiences in real life, runway shows and the wonderful world of style that we see in Hollywood. She works carefully editing and comenting every fashion trend with his collaborator Sergio Corvacho, a fashion journalist that also doubles up as a producer and makeup artist in diferent sessions all over the world. Together, they created this blog to be in touch with readers all over the world , and share their unique experiences about style.
Sophie also takes care of the style in a lot of shoots, and dressing the most important celebrities.
To conclude the resume , Sophie , not only talks about fashion , she plays and helps the tastes of women in the five continents that travel all the way to Paris to see her fashion choices and hear a word of advice in style.
The multi-brand ATLF store is a must-visit address in Paris, a place conjugating valuable advice from a trend aficionado and a constantly renewed selection of women' s clothing and accessories.
***********************************************************************************************
***********************************************************************************************
SERGIO CORVACHO
Born in Peru and raised throughout the world , Sergio began to excel in the fashion and beauty industry shortly after his arrival to America. Highly recognized photographer Mario Testino met Sergio in Lima , Peru , and later introduced him to acclaimed make-up artist Tom Pecheux, who he then assisted in both runway and shoots , soon Sergio was also in top make-up teams under Linda Cantello, Dick Page, Val Garland, Lucia Pieroni and Peter Phillips, performing make-up all over the world for top designers and photographers.
Now , an established and acclaimed artist with assistants of his own, Sergio relays on both the beautiful and unattractive fundamentals of the real world for constant, ever morphing inspiration. This is a natural evolution derived from his formal education in Philosophy and Theology, and Fine Arts at The Facultad De Santo Toribio, and Escuela Nacional de Bellas Artes in Lima, Peru.
Sergio »s philosophy in the art of make-up always leaves an element untouched and raw, a widely recognized talent.
Sergio has collaborated with such celebrated photographers as Patrick Demarchelier, Richard Burbridge, Tom Munro, Olivier Zahm, Alexander Neumann,Richard Bush, Alexi Lubomirski, Mark Abrahams, Christophe Rihet, and many others. Never limiting himself to one perspective of fashion enabled him to work with such varied magazines as several editions of VOGUE, MARIE CLAIRE, ELLE, W, ANOTHER MAGAZINE, I-D, HARPER'S BAZAAR, L'UOMO VOGUE, GLAMOUR, INTERVIEW, NYLON, JALOUSE, L'OFFICIEL, MIXT(E), AMICA, SELF SERVICE, DOUBLE, VICE and PURPLEFASHION .
His innovative approach to beauty coupled with his talent for manipulating color has made Sergio an asset to such celebrities including Naomi Watts, Lou Doillon,Heidi Klum, Maggie Gyllenhaal, Rebecca Romjin, Paris Hilton, Charlotte Gaingsbourg, Molly Sims, Kate Burton, Salma Hayek, Mia Maestro, Nieves Alvarez, Laura Ponte, Eva Herzigova, Claudia Schiffer, Joana Preiss, Julie Gayet, Melanie Laurent, Alexa Chung, Josephine De La Baume, Aitana Sanchez-Gijon, Amaia Salamanca, Vicky Martin Berrocal, Sigourney Weaver, Tim Robbins, Jennifer Tilly, Tara Reid, Nia Long, Nelly Furtado, Fergie, Kelis, Molly Sims, Bai Ling, Casey Affleck, Harry Connick Jr., Carolyn Murphy, Shalom Harlow, Gael Garcia Bernal, Najwa Nimri, Belen Rueda, Judit Masco , Julio Iglesias, Paulina Rubio, Michael Kors, Julianne Moore and Caroline Kennedy.
Sergio regularly contributes with advertising projects suchs as Air France, Avon, Awake Cosmetics, Banana Republic, Barney's New York, Bergdorff Goodman, Calvin Klein, Chantecaille Cosmetics, DKNY, Donna Karan Collection, Hugo Boss, Janet & Janet, Galleries Lafayette, Printemps, Christian Lacroix, Louis Vuitton, Les Petits, Cortefiel,
Jigsaw London, Maison Madame Gres, Macy's, Max Mara, Neiman Marcus, Nordstrom, Oviesse, Perry Ellis, Penny Black, Pollini, Replay Jeans, Sony Music, South Coast Plaza, Theory, Zilli, etc…
Sergio's distinctive and ever evolving view on what defines beauty ensures him a long and succesful career