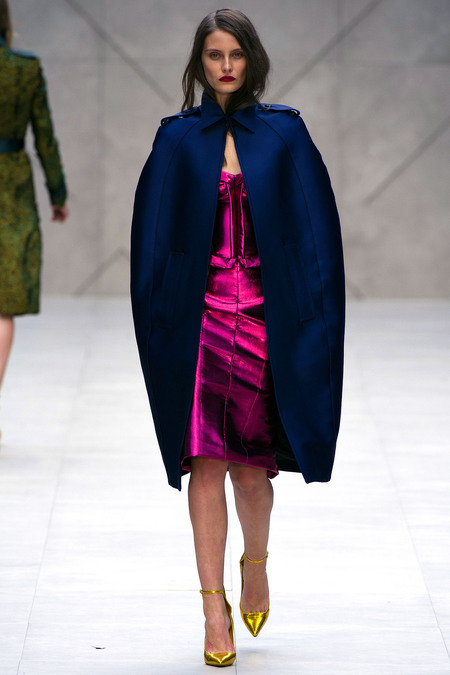 BURBERRY – HORSEFERRY ROAD HEADQUARTERS,
last monday I took the Eurostar from Paris to London, to personally make my future choices for ATLF. I went with my Creative Director Sergio Corvacho, to decide what it´s going to be an amazing choice, we were in extasis, and this are the pieces that made us dream, I see a lot of my clients, and future clients wearing this selections all spring and summer 2013.  We are going to start with THE CAPE.
It is the english version of the traditional and classis cape from YSL. This cape is my new object of desire just beacuse of its color, it is the color of the moment, and we will have an invasion of ELECTRIC NAVY BLUE.
Everything is blue, and to tell you the thruth, I can't even look at black anymore, it is going to be a blue moment that will lead into black later on. I smell the colors blending in the future, and that us an inspiration from YSL as well. This cape is daytime and nightime, it can go very well with pants, and a dressier shirt, or an exotic evening gown. All the types of women are going to find eachother and very well fit in this cape.
My new love.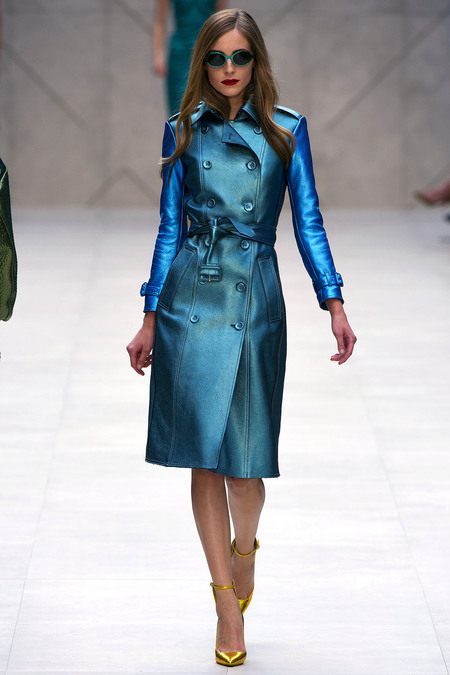 WHY I CHOSE THIS TRENCH?
1.- The color, this is the trench of the future, the bicolor of it just brings us to the next level, the metallic. This is a tendency for the metallic and the mix of shades. A new emotion of fashion. I am really tired of the references, the decades, and hearing all the fashion victims identify a piece and inmediately go to a decade. Can we please have our own? define our own? is time for it, and I think this piece is the beginning of a new way of seeing fashion. I don't remember exactly the stylist who made the trench for the evening, either Carine , or Emanuelle, but one of them did, and they succeeded so chicly.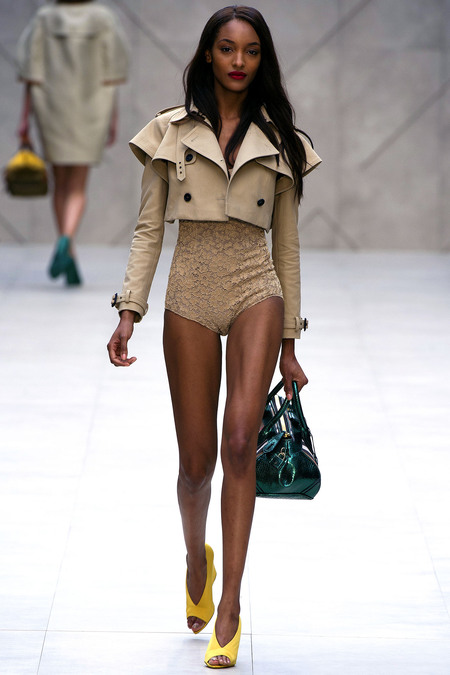 THE NEW TRENCH- SHORT PERFECTO
It is really evident that this piece is new, I can see it amazingly well with the pencil skirt, A line skirt.
I wouldn't wear it with pants, then we fall into a fashion code mistake, and we can end up looking like a custome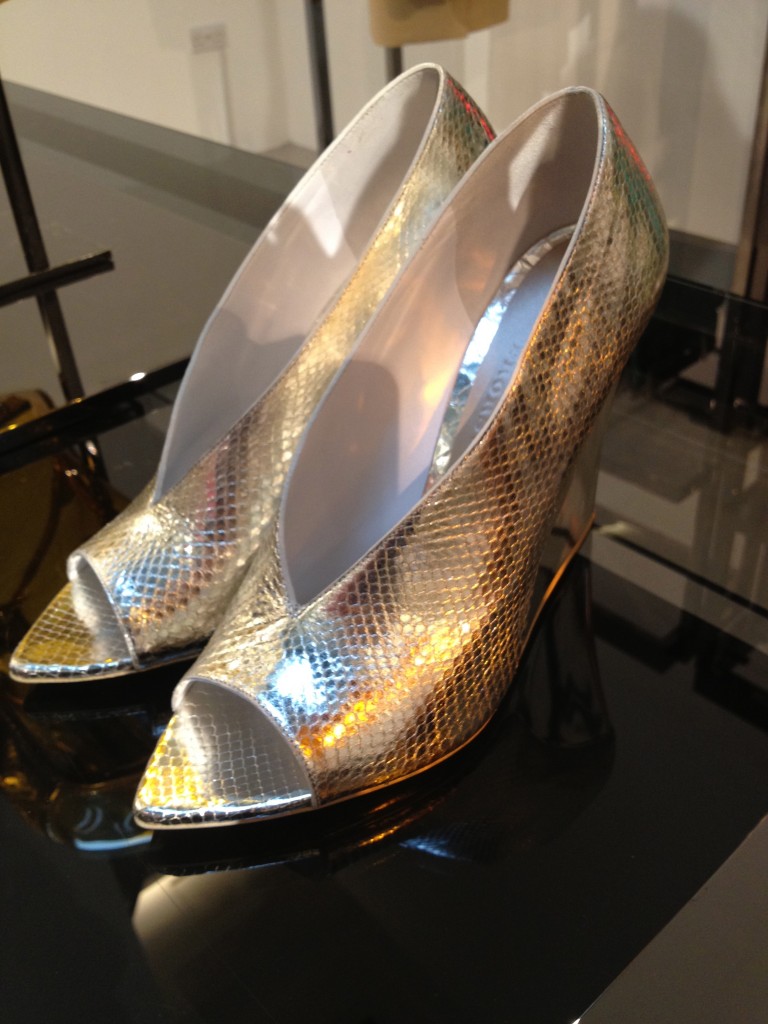 THE SHOES:
This is a must have, I predict they will be a « best seller » I am sure I will see everyone wearing this, all day round, for the daytime, for the evening.
I tried them on , and I couldn´t believe how amazing they looked with every BURBERRY outfit I selected. This is the new heel, the new shape, and it will stay a classic. They have this triangular shape, that has the power of the sublteness, we don´t really see what it is from far, it defines the feet in a very elegant way, and has a modern touch. Thanks a lot CHRISTOPHER BAYLEY for creating a shoe that flatters our look, once again, BRAVO.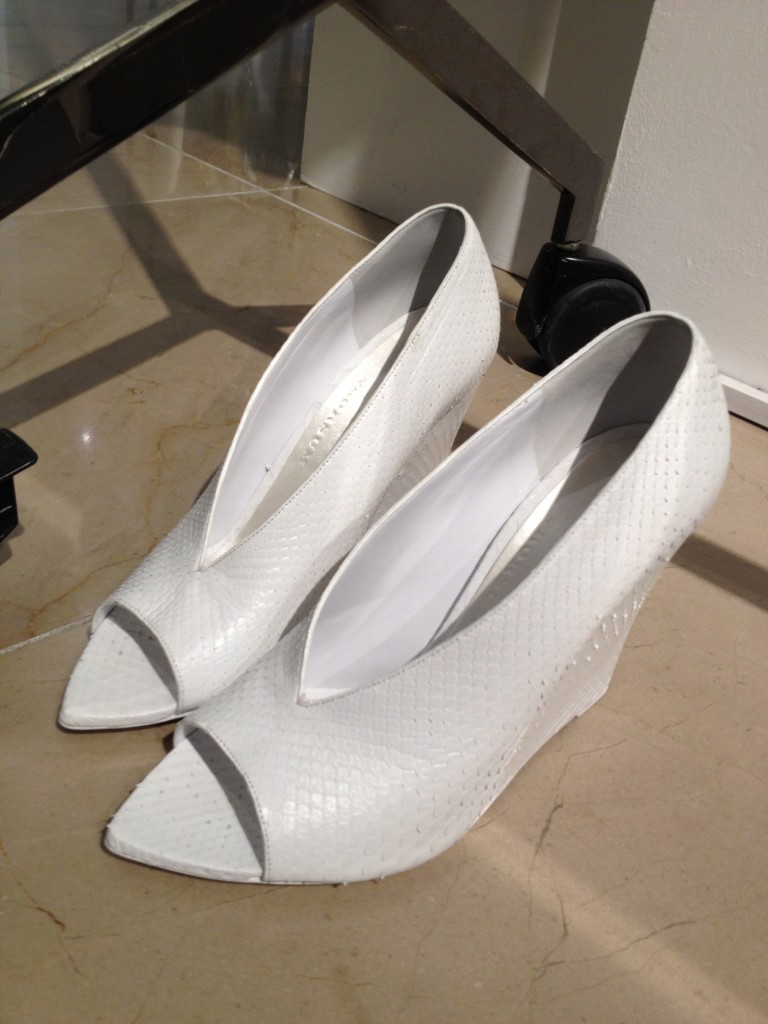 THE SHOE IN WHITE
Now, I made sure I show you this same shoe in white, I never duplicate my selections, for the simple reason of being UNIQUE, we have to be Independently stylish, but this time, I made the exception just for the newness of the shoe shape. I tried it , again, it is so comfortable to feel sexy , believe me. High heels are our bodies best friends, but not our feet, I feel in heaven with this wonderful creations.
WHY in WHITE? White is the base of the summer, the summer is white, fresh, clear. Then all the colors can gravitate around it, but I see a base of white, as a canvas where you can paint on top or around it.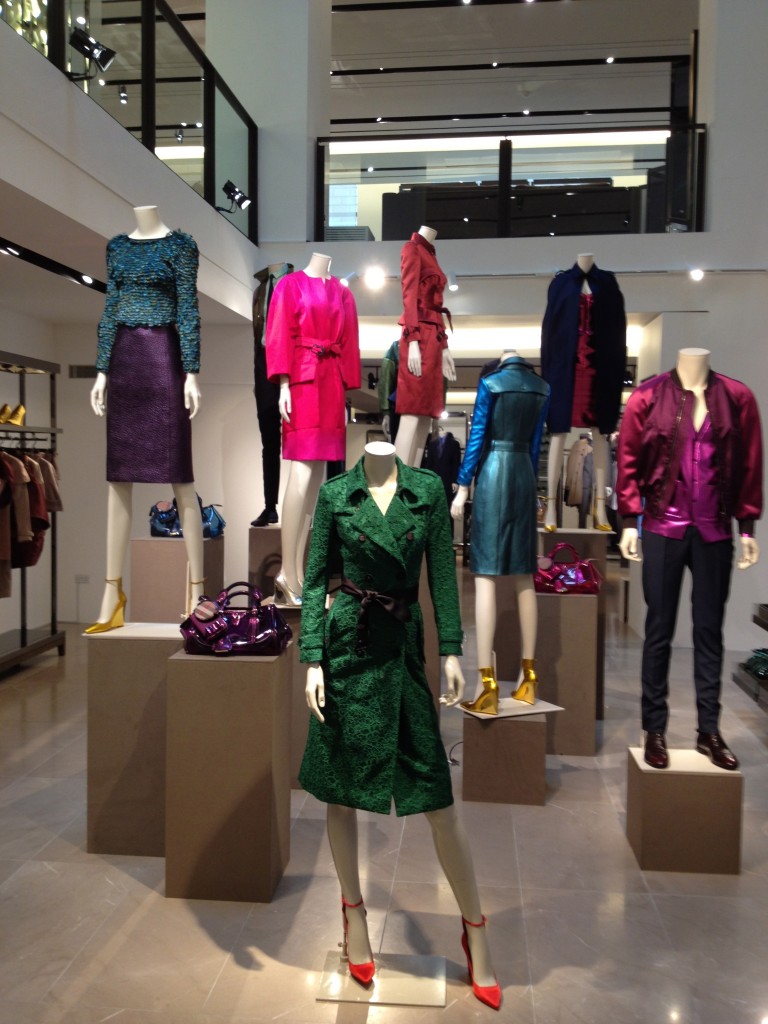 THE MOODBOARD
I am always impressed by the first impression, and this was my first sight at BURBERRY. Here CHRISTOPHER BAYLEY, displays an explosion of color which means he sees color in the future summer. And I have the feeling he is coming towards the military green, the dark green, the bottled green, those hues of green that made me dream. He glamorized the medium green, and sublimize the military green that we are use to see in an alternative way rather than a sophisticated style CHRISTOPHER has launched a new way to see the green, and I am so excited about his passion for expressing the modern look in colors that are not usual. He shared the greens with a variaty of magentas, purples, electric navy blue, mauves and yellow. But I am still so in love with his version of green, it is just simply magical.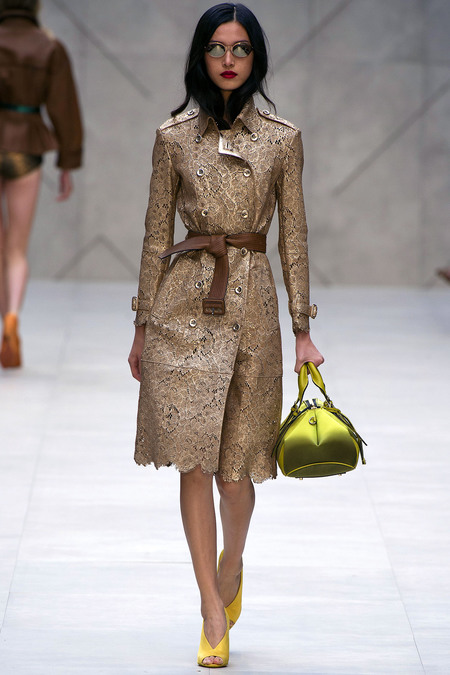 THE GOLD LACE TRENCH
I was so impressed when I saw this, just romantic and so unpredictible. Now he came with this leather lace trench, this guys is beyond, BAYLEY came out with a new baby, diferent than anything else before, and I heart this piece of my future wardrobe. I love the color selection, in this LIGHT GOLD that defines femeninity. He wasn´t afraid to belt it with a darker taupe, to explain that we can always define our silhouttes in a sexier way. He accesorized the look with a touch of color, with the green bag, and the yellow shoe that calls GOLD all the time. The sunglasses have also the GOLD TOUCH, so, to make the long story short, it is a marriage between gold and their color variaties.
SOPHIE LEVY & SERGIO CORVACHO