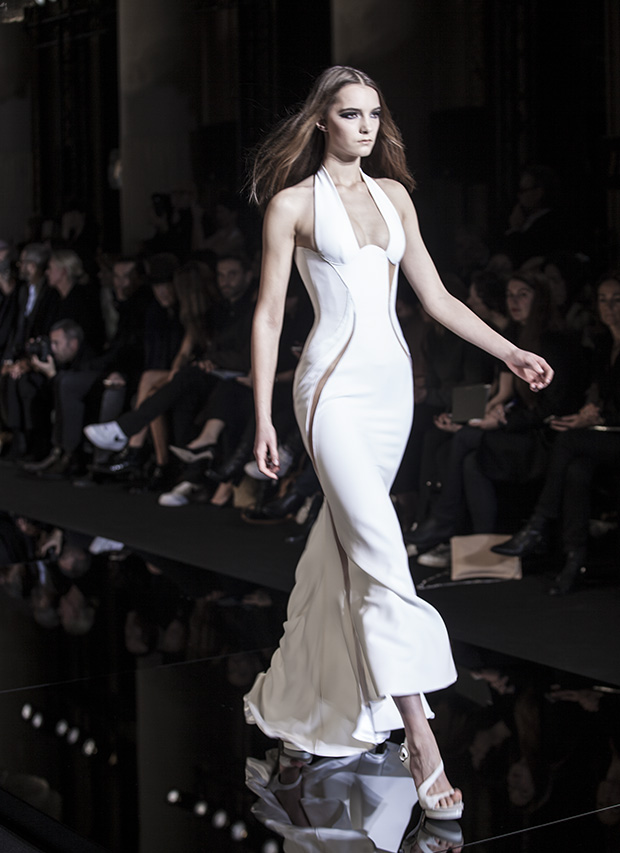 ATELIER VERSACE showed last night a potpourri of the best shapes of the seventies and some eighties. The palette was very simple , the colours of France, maybe to bring homage to this struggling time in France. Also , the Versace house showed a lot of flattering jumpsuits that emphasised the legs bringing the famous flare back to the limelight, and this is something that we saw at BALMAIN the past season , so it is staying.
The dresses had a pageant kinda feeling , and also were inspired by old Versace, when he used to mix the cuissards with the evening gowns, it was a flashback moment that totally recalled the past.  Versace is feed backing and nostalgic this season.
Finale with Eva Herzigova and Amber Valletta, models that made an impact in the nineties, proved that they became something else , maybe clients or actresses, showing a big difference of presence amongst the other casted models who seem to be more homogenic.
Photos by Sergio Corvacho
Edited by Sophie Levy