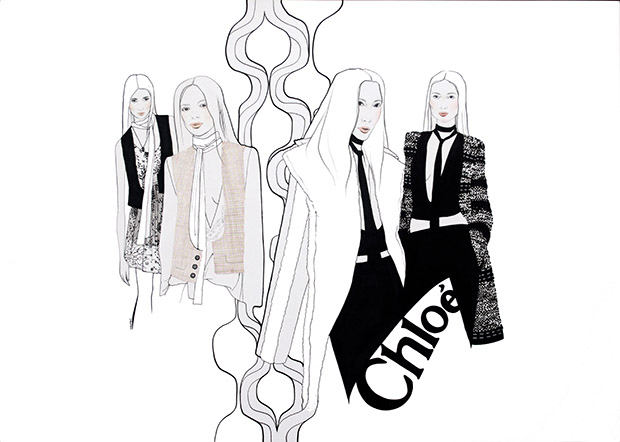 FASHION ILLUSTRATOR LAURA CUADROS is back this week by a theme that SOPHIE LEVY adored this fashion week, the  VINTAGE ANDROGYNE. ATLF named CHLOÉ FW15 as the best pret-a-porter collection in PARIS. It had the cool, the masculine touch, the new details as the ties models wore on the show, a really good styling and the seventies feeling that we love at ATLF.
LAURA performed four looks that SOPHIE mixed at the CHLOÉ showroom, remember that in fashion we should interpret the runway, in order to get our own style. Leave the total looks to fashion magazines, they have to do it that way, but not us, the real people, us, that wear the clothes.
The silhouette: The masculine elongated jackets and vests, the ties without an oxford shirt, results, violation of the rules, and there is as a consequence a pure style, a reason to love CHLOÉ, options and shapes that women are always looking for.
TEXT by SERGIO CORVACHO