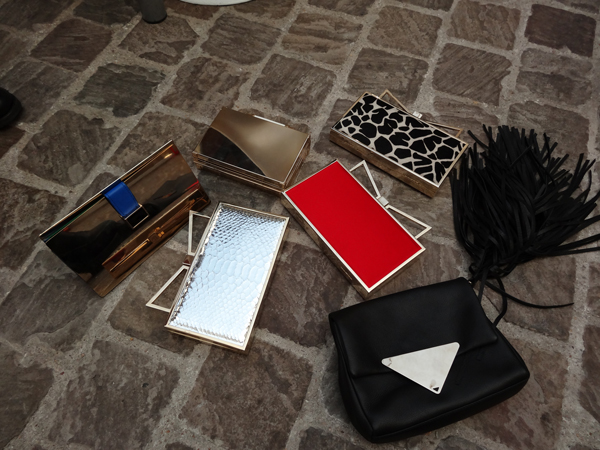 SARA BATTAGLIA
Sara is Giovanna´s sister, and who is GIOVANNA BATTAGLIA?
Giovanna is an italian stylist who started her career as a fitting model for DOLCE AND GABBANNA several years ago.
Now , her sister, taking advantage on all the hype GIOVANNA has, designed a beautiful collection of clutches. This clutches are just to die for, and they have the color combinations that we want , and that are so, so fashionable right now.
The combination of the fabrics and metal is just so right now, so Paris , so current. The gold clutch with the electric blue bucle, so beautiful , I hope this trena is here to stay.
Giovanna was shot by me last night at Carine´s ball sponsored by MAC cosmetics, and she was wearing a beautiful clutch in a light gold phyton, she held it for me , so I could photograph her with her beautiful dress.
RED: It is just the trendy color of the moment in accesories, it picks up the look of anyone wearing neutrals, and add a splash of femeninity just when we need it the most.
THE LEOPARD mixed with the GOLD ! such a refreshment to see an accesorio in this shape, just when I start to get a little uncomfortable seeing so much leopard around me , in Paris , in NY, in London, in Tokio. Everyone wears something in leopard. This time , the interesting shape of the case makes it fresh. I can see the felino shape, the bow could easily pass by a piar of kitten ears, and the modern rectangular design makes me crave this clutches more than anything this season.
Finally the black seventies inspired fringe clutch, more of a seventies bohemia piece of accesory, it does not stops me from wearing it daytime or nightime, it is the unique piece that makes it from day-to-night
Wonderful, Congratulations Sara, you did well, and I hope to meet you very soon!!!
SOPHIE LEVY & SERGIO CORVACHO