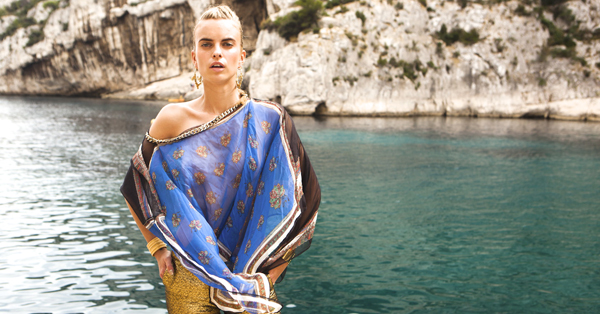 HELLO GUYS !!!
We start the week with a gorgeous shot by ALEXANDER NEUMANN, the fetish photographer from L'OFFICIEL who dedicated a fashion shoot inspired and conceived by us , the team of ATLF, and SOPHIE LEVY commanding the shoot. SOPHIE, as an avant barde stylist and visionaire of international fashion, determines last summer 2012 that blue will be the color of next summer 2013. A prove of it is the multiple blue choices we see in the most selected and exclusive celebrities all over the planet. We look at them now as fashion references, and the models , a specie that hit their orgasm in the 90´s, unfortunately lost power, they became insignificant, and the actresses are the ones that decide fashion, and wear fashion. Thanks Hollywood, you bring constant glamour to our tv´s, computers and our lives.
Our model, we don´t even remember her name, is wearing a GIVENCHY tunic from the GIVENCHY CRUISE COLLECTION, the shorts are by the american designer MICHAEL KORS, and the bracelet is by CELINE, all of them summer 2013.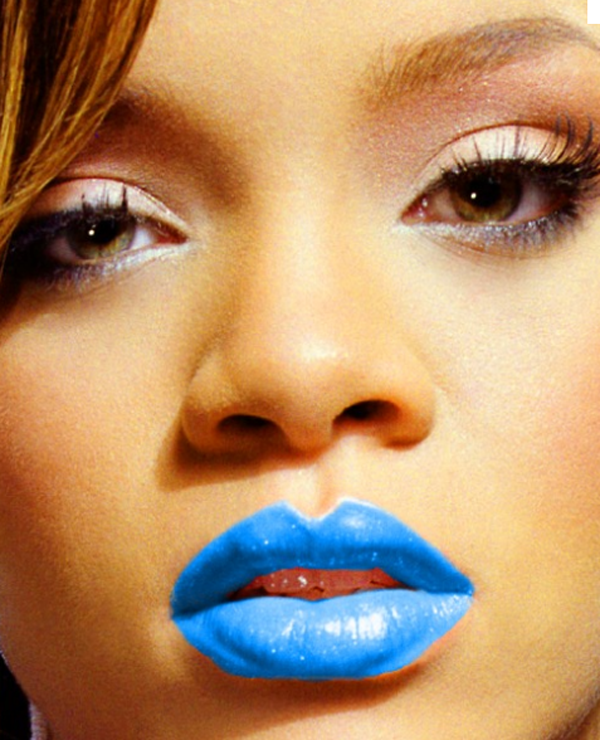 Guys,we are giving you these images as a reference, as a mood board, as our story board for our next summer 2013 that we know all of you already started preparing , nice !!! This lips evoque the cristaline waters of HARBOUR ISLAND in the BAHAMAS, the baby blue turquoise from the CASSIS CALANQUES; or the sophisticated color of the sea in SAINT BARTH´s.
TIP: Don´t try this at home, it could be a major disaster if you are not a makeup artist, it requires expertise and technique.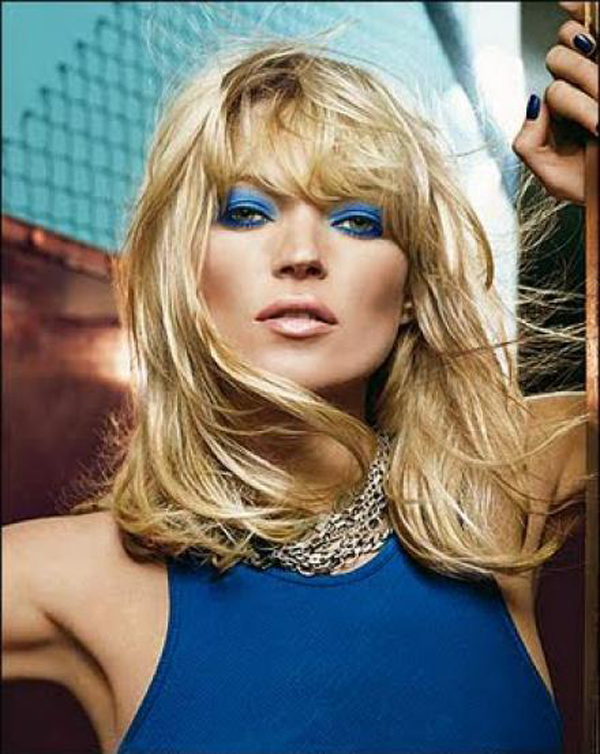 Here , espectacular KATE MOSS, is wearing a total blue outfit and makeup, she is more stunning than ever, and blue brings her eyes and hair out.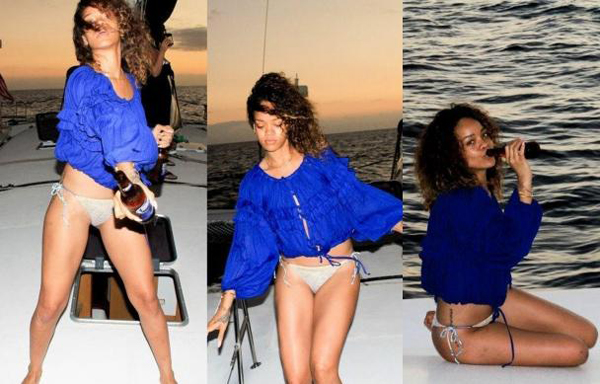 Also black girls look outstanding in electric blue, in this case, our beloved RIHANNA, WHO IS ONE OF OUR FAVORITES, IS displaying a mexican style blouse that sizzles her figure, and puts her ahead in the trens game, as we said before, she is always in the avant gard, and she is L'AIR DU TEMPS. Blue is the color of summer 2013, we don't even predict it anymore, we know it, and it looks so chic associated with gold.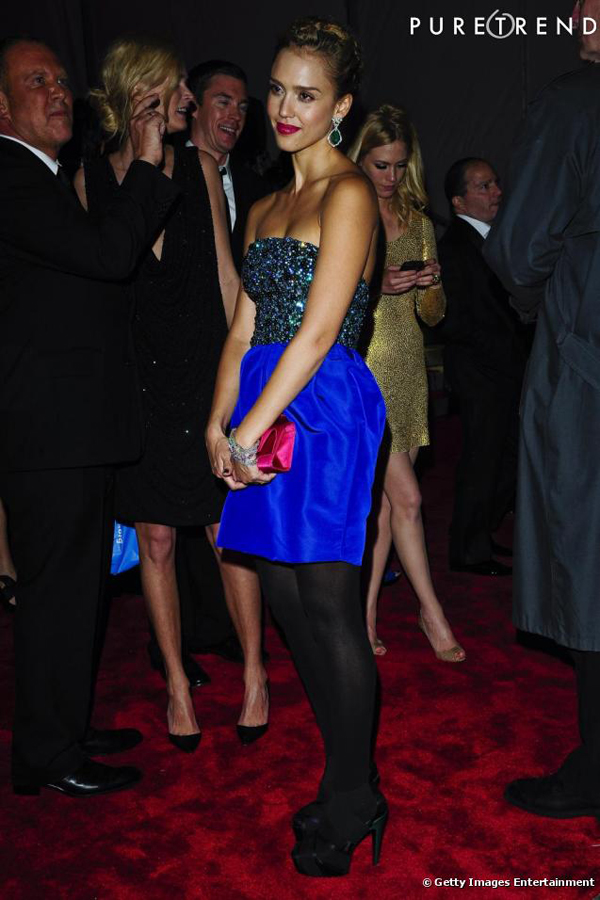 JESSICA ALBA does a style lesson here, the tricolor and dual texture, style mastered by the ATLF book of style.
The strapless dress,  which is dual fabric, is cut in a cocktail shape, really flattered by the sequin top and the fuchsia clutch is a must, three colored, three fabrics that contrast the fabulous  skin tone of our beautiful actress JESSICA ALBA.
The mistake: don't!!!! Do not wear it with heavy black stockings, it brought the silhouette down, and made the legs heavy and wintery, bravo darling.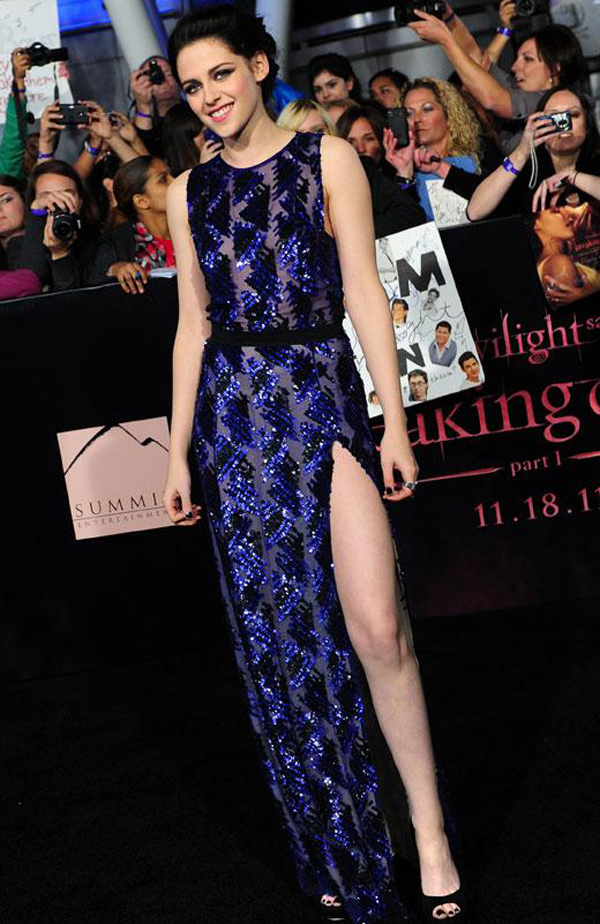 This electrifying blue dress wore by KRISTEN STEWART, the beautiful girl that conquered millions of kids all over the world. This is a perfect dress for the movie presentation, where  Kristen looks at her best. We are not really big fans of her, but the masses are, she is the masses's heroine, and we have to admit that sometimes she looks amazing.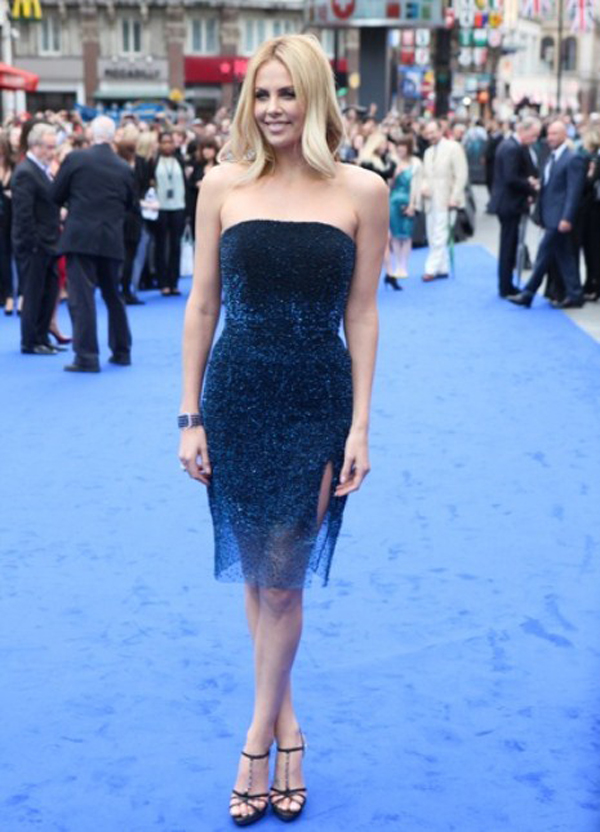 Skinny pencil bustier dress on CHARLIZE THERON, one of our favorite icons of fashion. the dress is prefect, and the blue sequin of it contrast with her porcelaine and delicate skin, the sequin effect is just to die for k and this number has all the ingredients to make a winner entrance no matter where you go.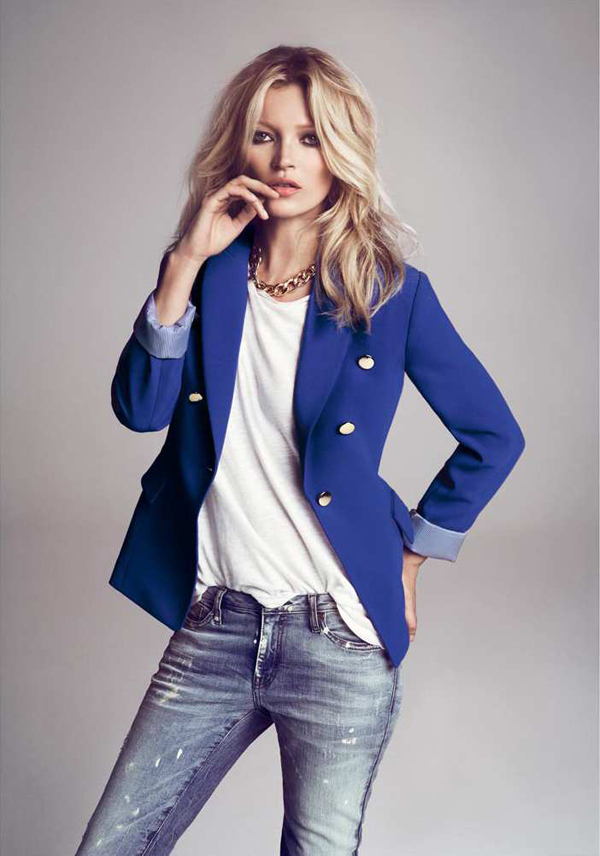 STREET LOOK shot in a studio, and modeled by Kate MOSS . THE DENIM HAS LOST THEIR FIRST PLACE LATELY.  The attitude of the look is not the same than years before, and it lost their throne to the coloured denim, but guess what? We have the answer and KATE MOSS too, you can look sensational wearing your beloved old jean, even if it'shaggerd and  cut by pairing it down with a bright color, in this cease, KATE wears it with a rolled down jacket in royal blue with gold buttons. Succesful Formula that will be chic for life.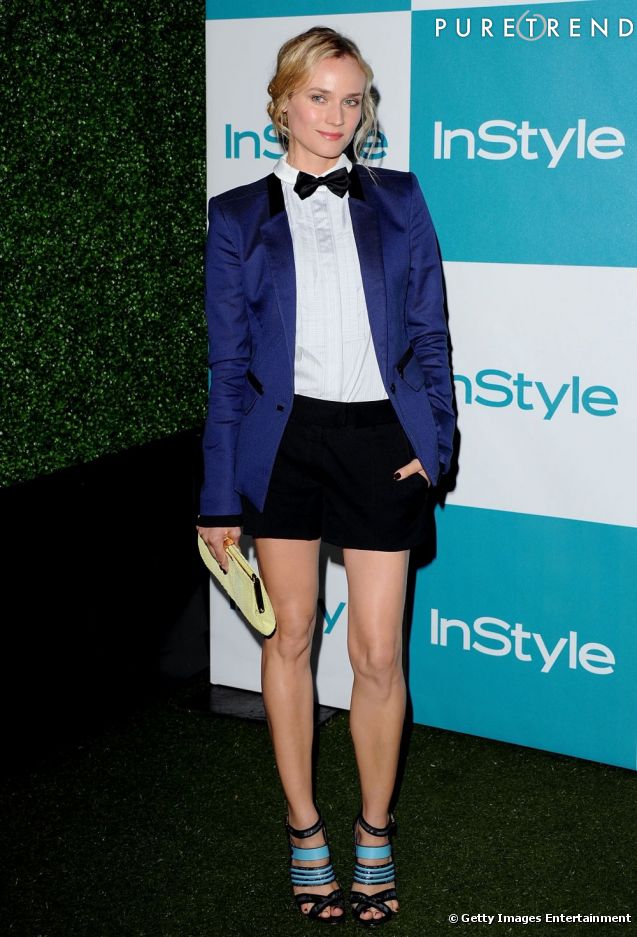 DIANE KRUGER, on our last post, we described her as a woman of style, and here she is again making a headline due to her wonderful sense of style, and we are sure she hires no stylist when it comes to put her looks together, and do you want to know why? because she looks great as well off cameras, on the paparazzi shoots, she is always a star, with no hair and no make up, she scores a 10.
The association of white, black and electric blue in a reformulated tuxedo, is definetely a must!
The short-smoking is for sure our favorite look, completely chic, and it will never be out of fashion , is here to stay, and it became a classic , we are just so in love with the bow tie that exploses the faboulousness of the look.
ON ADORE!!!!!!!!
THE RISK:
DIANE took a risk!!! , she selected a pair of shoes that could look threatening for a conventional person, but this time, she hit it big time, and the combination with the yellow clutch is a winner, conclusion: she will be mega imitated by B-C and D listers worldwide.
SOPHIE LEVY & SERGIO CORVACHO