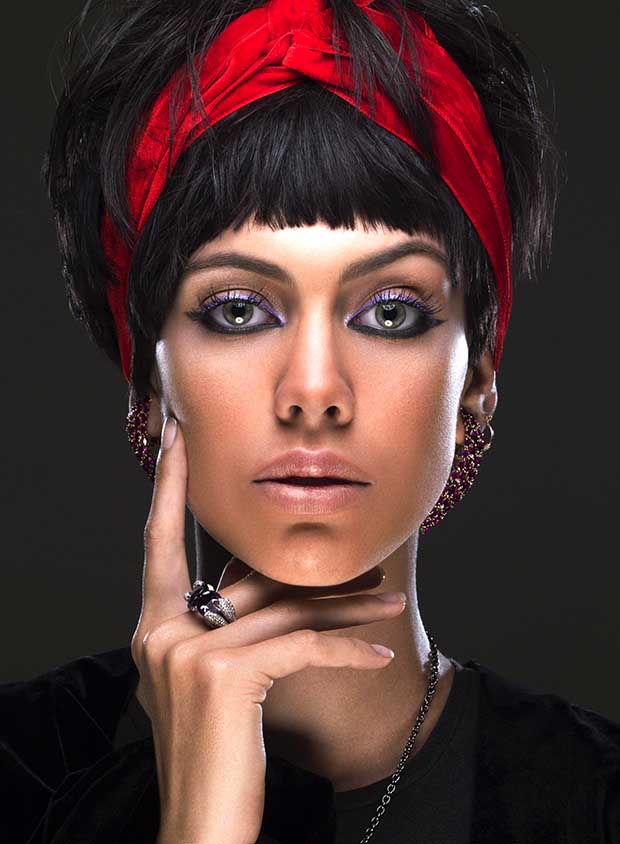 THE SIXTIES/ EIGHTIES , a glamourous time where the excess had a major impact on girls looks, tones down in our current time , less lip liner, less lashes but not the absence of it, and the liner gets a creative kick, instead of doing it ob the upper lash , we twist the periods and make it modern by giving it a punk approach. Both , the sixties and eighties had something in common, THE EXCESS, and in 2015 it gets modern kick, the minimal allure with a small reference of the past.
Earrings, Necklace and ring by MICHAEL GRIMBERG INTERNATIONAL.
SPANISH:
LOS SESENTA / OCHENTAS, una época de glamour donde el exceso tuvo un gran impacto en los looks de las mujeres, se reduce en nuestro tiempo actual , menos delineador de labiosy menos pestañas, pero no menos la ausencia de la misma, y el delineador de ojos obtiene un punto creativo, en lugar de hacerlo sobre las pestañas superiores , torcemos los períodos y lo hacemos moderno dándole un enfoque punk y delineando en la parte inferior. Ambos , los años sesenta y ochenta tenían algo en común , el exceso , y en 2015, el toque moderno es el encanto minimalista con una pequeña referencia del pasado.
Aretes , Collar y anillo de MICHAEL GRIMBERG INTERNACIONAL .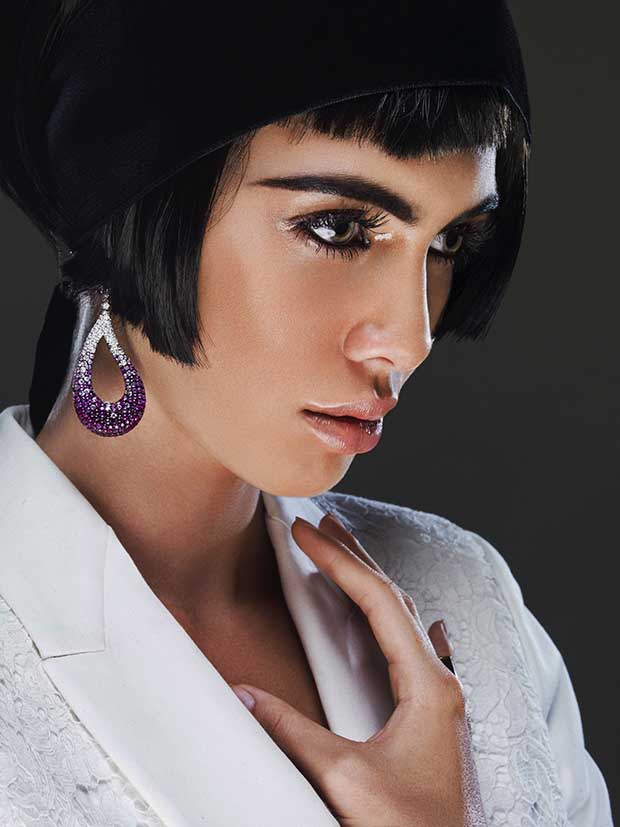 20's/90's
The bob from the twenties and the full on eyebrow of the early nineties that two years later would get a seventies dramatic change when FRANÇOIS NARS sent his models down the VERSACE catwalk wearing nothing but a line instead of a full eyebrow and crazy excess of tropical shades around their eyes and cheeks, it became an international impact, later on, the whole planet was looking for eyebrow pencils to draw them in.
90´s had the eyebrow and the clean american look to it´s best , NY became the center of fashion and a reference to everyone.
2015's secret:
keep it simple with the skin, tan or pale , it is about being minimal and natural let go the blush and intensify the eyebrow.
Jacket by GIVENCHY
Earrings by MICHAEL GRIMBERG INTERNATIONAL
ESPAÑOL:
20´s / 90´s
La melena corta y sacudida de los años veinte y el exceso en la ceja de la década de los noventa que dos años más tarde recibirían un cambio dramático inspirado en los setentas cuando FRANÇOIS NARS envió a sus modelos por la pasarela VERSACE usando nada más que una línea en lugar de una ceja y el exceso de locura de matices tropicales alrededor de los ojos y las mejillas , se convirtió en un impacto internacional , más tarde, el planeta entero estaba buscando lápices de cejas para dibujarlas y rellenarlas, obvios los motivos .
90's tuvieron la ceja y el look  americano, simple y limpio, Nueva York se convirtió en el centro de la moda y una referencia para todos
2015 tips:
que sea sencillo,  con la piel, bronceada o pálida , se trata de ser minimal y natural, obviar el rubor e intensificar la ceja.
Chaqueta de Givenchy
Pendientes de MICHAEL GRIMBERG INTERNACIONAL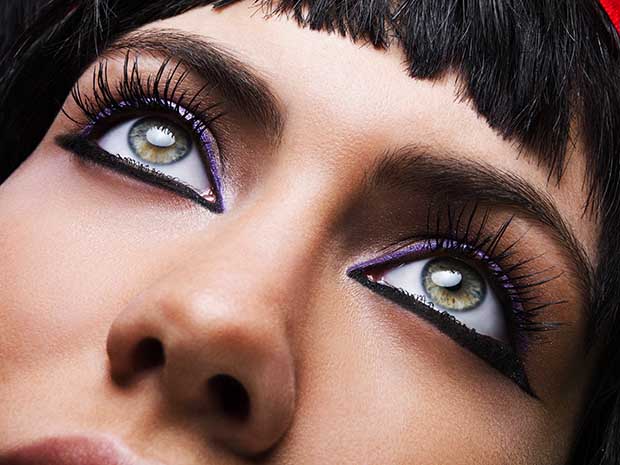 30's & 70's
seventies lashes and thirties drama, a combo that makes a perfect look for an evening out , keep it dramatic at night if you are wearing a unique dress either by ALEXANDRE VAUTHIER or BALMAIN, the secret is to keep the lips in the nude, bare them all.
EN ESPAÑOL:
30 de y 70
Las pestañas de los setentas y el drama de los años treinta, una combinación que hace un look perfecto para una noche fuera, un evento , una fiesta. Espectacular por la noche si llevas un vestido único y especial , ya sea por ALEXANDRE VAUTHIER o BALMAIN , el secreto es mantener los labios al desnudo, eso le quitará drama y efecto retro a tu look y t verás moderna , actual.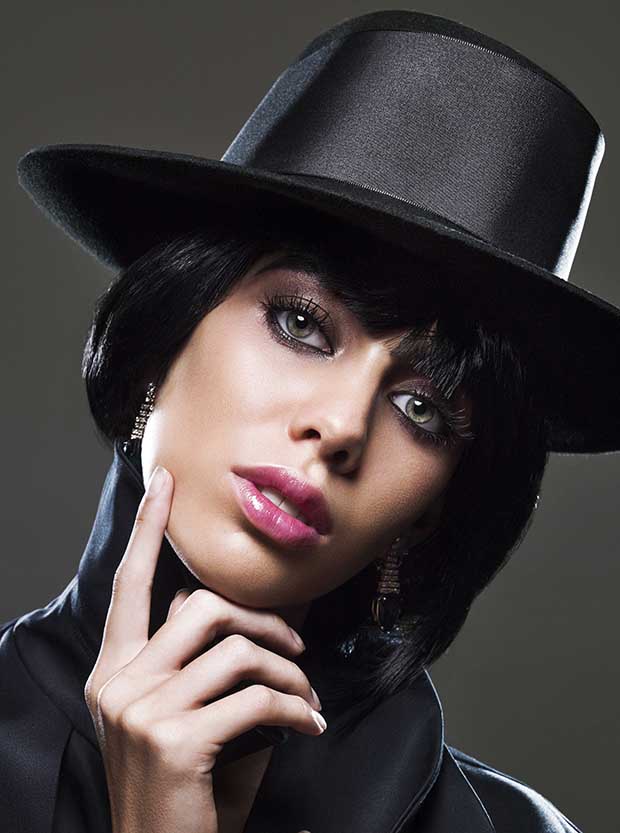 L'AIR DU TEMPS
It is right now, the softness of a pinky lip and a brown wash on their eyes, an effortless look that should take you no more than five minutes, and the secret is based on your fingers, a do it yourself technique than is foolproof as well.
Hat by MECHE CORREA
Raincoat by COS
Earrings by MICHAEL GRIMBERG INTERNATIONAL
ESPAÑOL
L'AIR DU TEMPS( El aire del momento)
Es en este momento, la suavidad de un labio rosado y un lavado marrón en tus ojos , una mirada sin esfuerzo que debe tener no más de cinco minutos de preparación frente a tu espejo, el makeup debe ser simple y poco ambicioso, y el secreto se basa en los dedos , házlo tú misma y  la técnica es infalible , mientras más simple , mas bella.
Gorra por MECHE CORREA
Gabardina por COS
Pendientes de MICHAEL GRIMBERG INTERNACIONAL
60's/80's
The element in common , the hardcore attitude and the extreme in the accessories, it works for the evening, the execs with the heavy black eyeliner and the muted lips , a trademark from the sixties and eighties rock'n roll attitude.
Dress by LANVIN,  jewellery by MICHAEL GRIMBERG INTERNATIONAL, and VANESSA BELLUGEON ANIMAL necklace.
ESPAÑOL:
60´s / 80´s
El elemento en común , la actitud hardcore y la abundancia en los accesorios , funciona por la noche , los excesos con el delineador de ojos negro pesado y los labios apagados , una marca definitiva de los años sesenta y ochenta, la actitud rock'n roll que se mezcla muy bien con las tenidas nocturnas, y el haute couture.
Vestido de Lanvin , joyería de MICHAEL GRIMBERG INTERNACIONAL , y collar ANIMAL VANESSA BELLUGEON .
PHOTO BY EDWARD ALBA
STYLING BY SOPHIE LEVY
ART DIRECTION, MAKEUP , HAIR & PRODUCTION BY SERGIO CORVACHO
CASTING BY LUZ PAPADIMITRIOU-NEUMANN