THE EXPLOSION OF COLOR
There is a new beginning when it comes to  accesories, the sure values are rarely fashion ideas.
Due to the crisis, women all over the world have been replenishing their wardrobes with classic accesories , and specially bags, and I am talking about the typical and classic bags from CHANEL and HERMES.
The identity is kinda over, due to this pieces that give confidence to women that are afraid to risk. Now the bags are getting more creative, and there is the chance to get the fashion bag  for our wardrobe since the classic has killed the fresh idea of being new and creative with our looks.  I am so happy to reafirm nowadays, that women adcquired importance by carrying this classic designer bag.
FASHION IS NOT A SOCIAL STATUS , we don't need to be rich or pretend to be rich by showing that we carry the 20, ooo euros bag to make sure we are accepted socially. The worse is that the most expensive bag has become the most vulgar piece of accesorie due to it's over exposure; it became common and uninteresting to see.
The problem is that when something is fashionable; it becomes out of fashion, I do not cosider fashionable a way to be unique and stylish. I am so happy I have this blog to finally reafirm and tell all the things I wanted one day to say outloud. Style is unique , and renewing ourselves is a way to express ourselves, women will start to find out that they look ridiculous walking all over airports, any major cities and supermarkets with the same bag, isn't it true, I CAN'T TAKE IT ANYMORE, I want to see women with a unique style and with identity, different energy and finally; a bag that they chose THEMSELVES because they love them,  even if it is tacky or ugly, or beautiful it's finally their choic e and THEIR BAG!!! We don't buy style!  and women are losing their style by being faithful to ridiculous codes that are driving me crazy.
For example , I am in love with my new DEZSO by SARA BELTRAN bag, she created a refreshing, modern pouch that gives me a desire to wear, to play and to go out with, and it is not neccesarily HERMES nor CHANEL.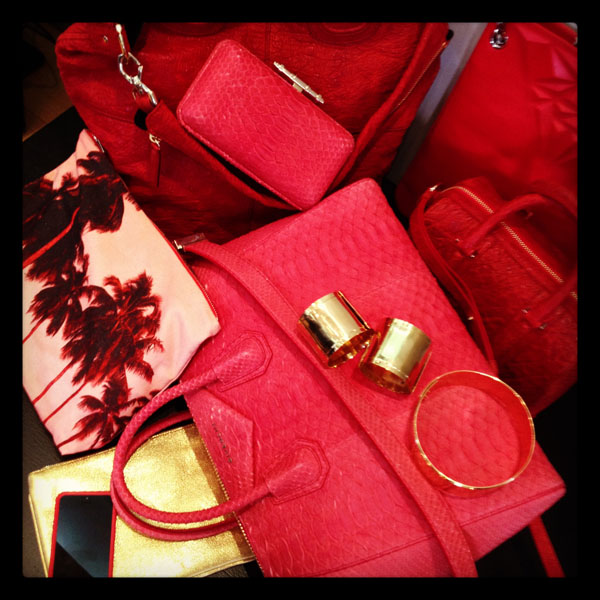 Yesterday afternoon I went with my creative director , Sergio Corvacho to buy the collection at the GIVENCHY showroom, and all of the sudden I got inspired. First of all I see the new shade of the season, the SANGUINE, a color that I saw many times at the DEZSO ATELIER, it is the emblematic color of SARA BELTRAN, and she calls it : FLUORESCENT FLAMINGO. It is just refreshing and full of life, full of sex appeal, and lively. GIVENCHY is ahead of the crop, and I don't know if they took inspiration again from SARA, but they gave me a fresh and clear view for what will be going on on the streets in the near summer 2013. I decided to make this still life shoot, on site , to inspire my first buys , and the result was a bunch of energy and an explotion of FLUORESCENT FLAMINGO.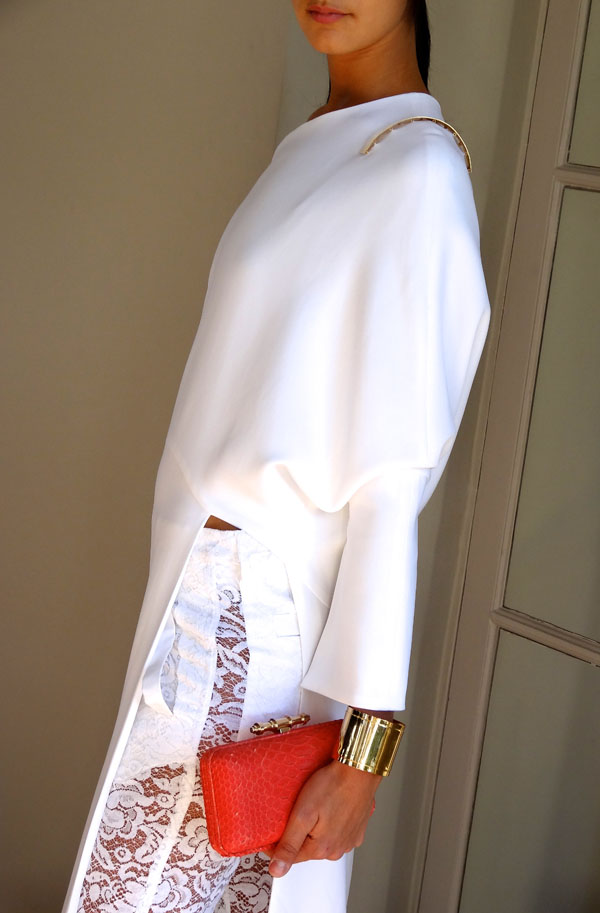 Here I have an example of the strenght of the FLUORESCENT FLAMINGO,  I consider, and I affirm that white is the color of the summer. I associated the outfit with a touch of fluorescent flamingo with gold, I think is modern and chic. I had all the freedom to create my own looks at the GIVENCHY showroom, I was a little sad at the show, although it was magnificent but monochromatic, I wanted to create already my woman, and I don't have the journalist eye, who concentrates in the piece, in the creation , and totally forget about the real woamn who is going to wear this looks. That's what I don't really understand from fashion, their pleasure destroying women , or even crazier, to make women soul less , or even sexless.
I like the femenine touch of a pouch; it really gives the excitement of going out, and I am not a guy, I am a girl, and I need my little things around, like my lipstick, my credit cards, and etc… I love the combination of the lace and the big blouse that becomes a half dress, it is really sexy and new, refreshing cut and I suddenly got excited, it is the piece of the summer.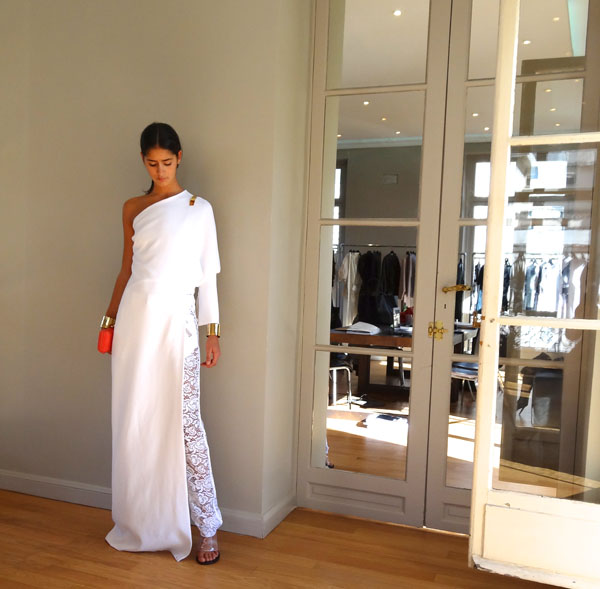 A better view; from a distance of what the whole look evolves in an environment. The modern sari, the lace pants who adquiere its modernism by being white. I love the assosication of the gold and Fluorescent  flamigo as the accesories. This is a girl that can totally make it to a gala, to a dinner, even to the red carpet.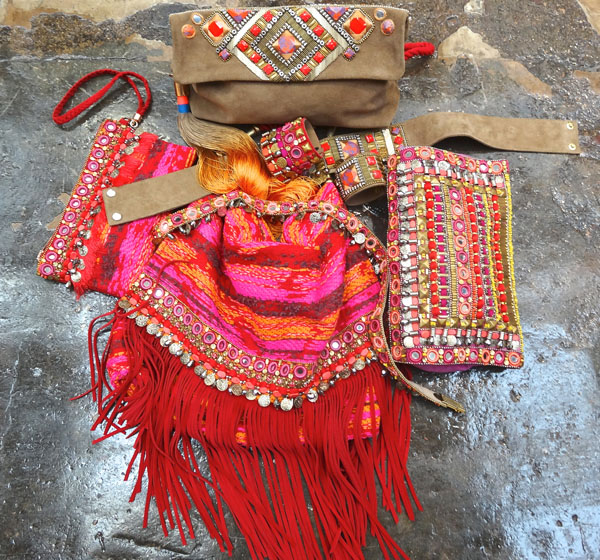 Already the combination of fabrics, multiprints, hippie , boheme, summer , vacations, is all we want to dissapear from Paris and take it to a deserted island and be sexy and flirty.
I want to go out with this bag, it has all the colors that I want, from pink to red , from orange to crimson , there is energy, and there is a mix of textures and fabrics. It is a way to say that designers are stronger than the classics, and that's why I love this business, that's why I love fashion, nothing is determined, nothing is confirmed. One day your in , and the next your out, but who cares, the challenge is amazing, it gives us the oportunity to play and experiment, and maybe a fashion mistake can make you a star, can make you a mith, the more you think how you need to look, the worse you look, we have to be natural; comfortable and unique, voila.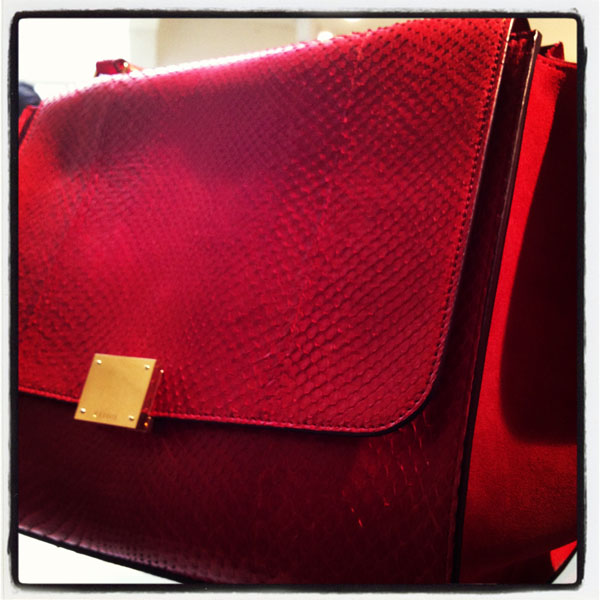 This is the confirmation of CELINE, she associated the chic, the color, the vintage, and the city woman, the business chick, it is just a beauty, and it is the bag of the season.