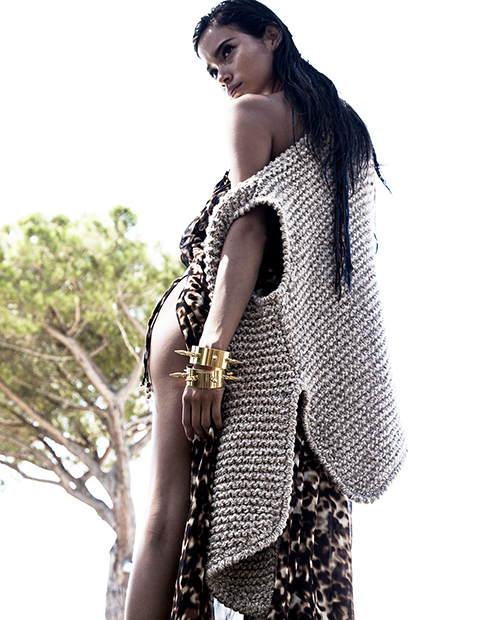 STROKE IS A NEW BEGINNING
STROKE is one of the many brands that our fashion director SOPHIE LEVY offers support.  SOPHIE launched many brands in PARIS that became world class success, and STROKE is one of them, it is the future and the next chapter in style.
STROKE is formed by a group of young and artistic designers that come from the Art world, knowing the mixture of style and comfort very well, it is their main thing to look stylish and comfortable at the same time.
A Wide collection of cashmere sweaters, jewellery and leather unique designs, STROKE has the capability to dress a woman of the world, a jet setter as well as the traditional one, or the girl next door.
In this picture JUANITA BURGA , ATLF´s muse is wearing a sleeveless oversized cardigan styled by SOPHIE LEY in a relaxed and luxurious way, SOPHIE is marrying the comfort with the luxe.
ATLF is launching in exclusivity in PARIS , the most unique and first collection of STROKE, selected by herself, as a world known fashion editor for her own shop and also her followers.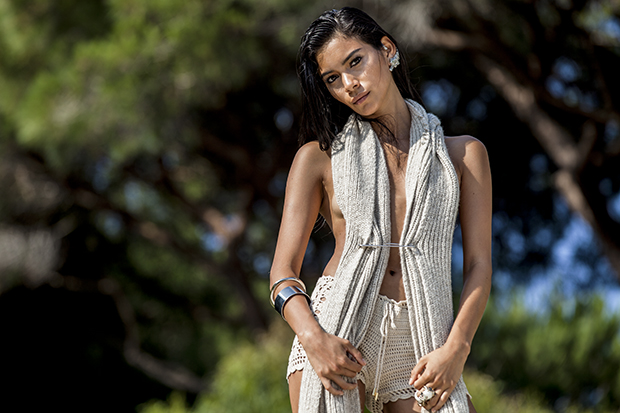 JUANITA BURGA is wearing an oversized scarf that is attached also by a singular piece from STROKE, it is a safety pin made of white gold, that has multiple functions, SOPHIE LEVY, the stylist behind this first collaboration shoot, created the idea of  mixing the cashmere with the gold not initially thought of.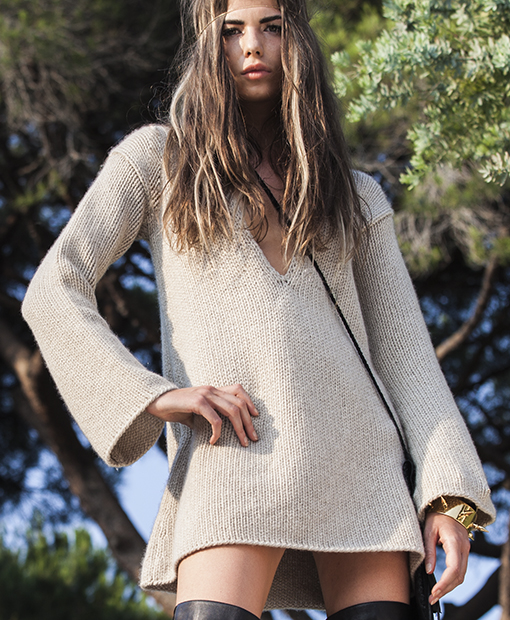 This exclusive model , half time dress, half time sweater, a dual piece that was smartly designed by STROKE will hit our shop starting september 1st.  SOPHIE LEVY as a stylist , thinks that wearing it in a sexy way is a hit, pairing it with the famous cuissardes( high boots), and some touch of gold arranged by ALEXANDRE VAUTHIER, also available at ATLF PARIS. The styling is pure, minimal, and of course sexy, which is ATLF signature, to bring and give women the power to seduce the world.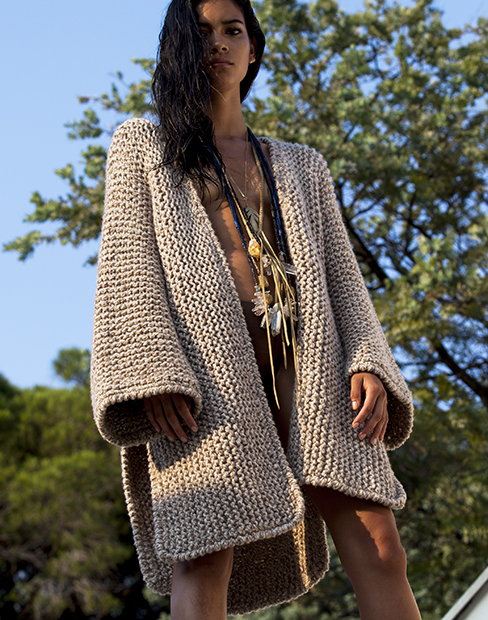 This marvelous multiple sweater works out as many things. Saint Tropez is just one of the many places where you can look absolutely fabulous and most importantly, chic and comfortable in it. JUANITA wears it in a way showing the multiple uses of it. Made of the most exquisite cashmere, this is an overall piece, a timeless , and classic look that can live in your closet forever. The Pagoda sleeves, just a little longer than your hands to wrap around yourself on a windy a cool afternoon. You can use it as an overall , day-to-day dress or also as a sweater to go out for dinner.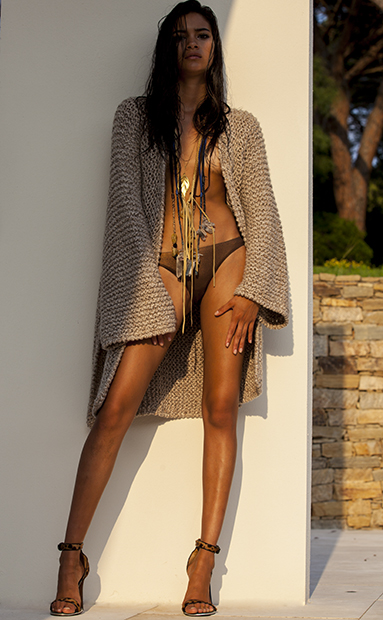 JUANITA looking gorgeous , tan , and with her smooth and caramel skin , shows off the versatility of the pagoda sweater, that embraces the figure of a real woman , making her fell sexy, and at ease.  STROKE PAGODA SWEATER.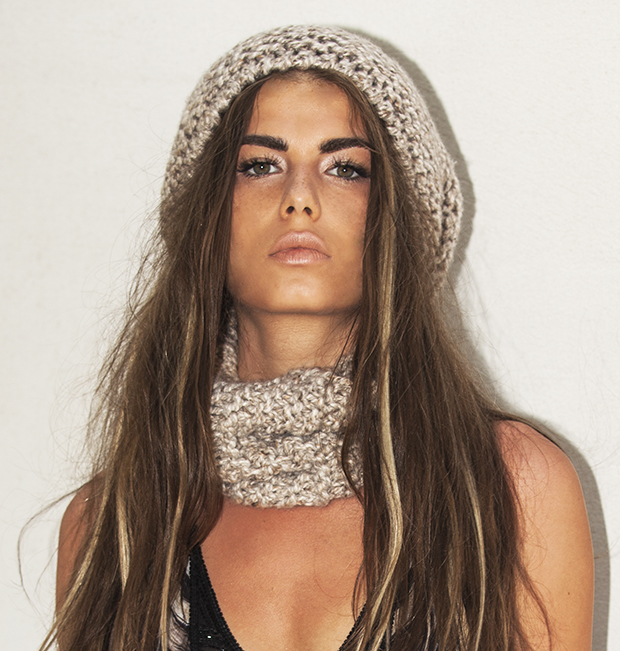 ANNAMARÍA KASZAP looking cute and cozy with her STROKE combo, the cashmere hat and scarf  that transformed the sexy CAVALLI DRESS into a personal and strong winter statement. Styled by Sophie Levy.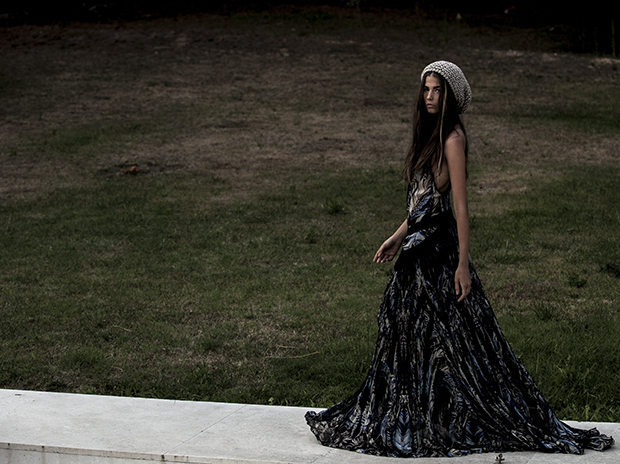 Here is the total frame that shows you how cool it is to add the cashmere element to the look, CAVALLI is showing a long dress , and as SOPHIE LEVY says, to get rid of the drama that the dress bring , we add the cashmere hat that eases the style , and the girl immediately becomes younger and fresher, with a cool attitude you can get anywhere.
THE PONCHO SWEATER
A comfortable poncho designed by STROKE exclusively for ATLF.
This is a versatile way to go from day-to-night, completely adapted to go throughout the day , and also made in cashmere, the most comfortable fabric ever. You can wear it with something underneath as well as naked, feels soft , nice , and above all, chic and comfortable.
In this picture SOPHIE LEVY, our stylist paired down with a relaxed flare pant by BALMAIN CRUISE 2015, contrasting the creamy beige of the sexy poncho.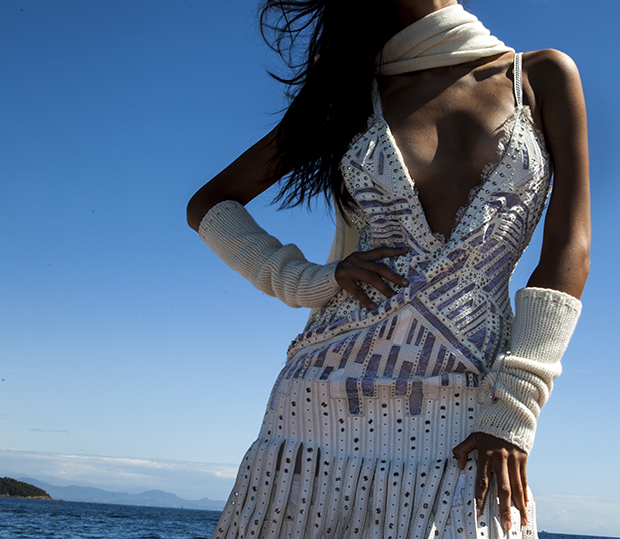 THE FINGERLESS MITTEN
The fingerless mitten is the definition  of sexy without being cute, warm and always cozy. Here, a detailed picture on how to be worn , with a couture dress, in this case by ROBERTO CAVALLI, STROKE gives us a touch of the luxurious feeling of  cashmere, the texture, and the look of it , enriches the outfit making it even more desirable.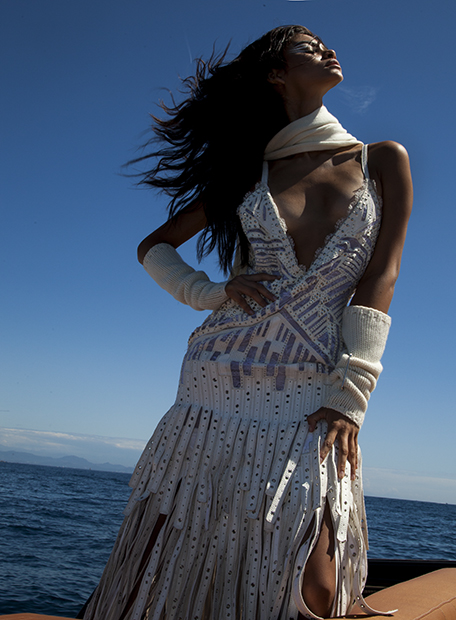 JUANITA BURGA WEARS STROKE
STROKE in full length look , displays the marriage of two different universes that match and get along. ROBERTO CAVALLI & STROKE , the stylish marriage that once again is validated by our genius stylist SOPHIE LEVY, creating the look and the presence in any international scenery of style and fashion.
STYLE DETAIL
STROKE created several safety pins , in different sizes and styles. SOPHOE LEVY used them as an style accessory to help give a shape or redefine the styles!