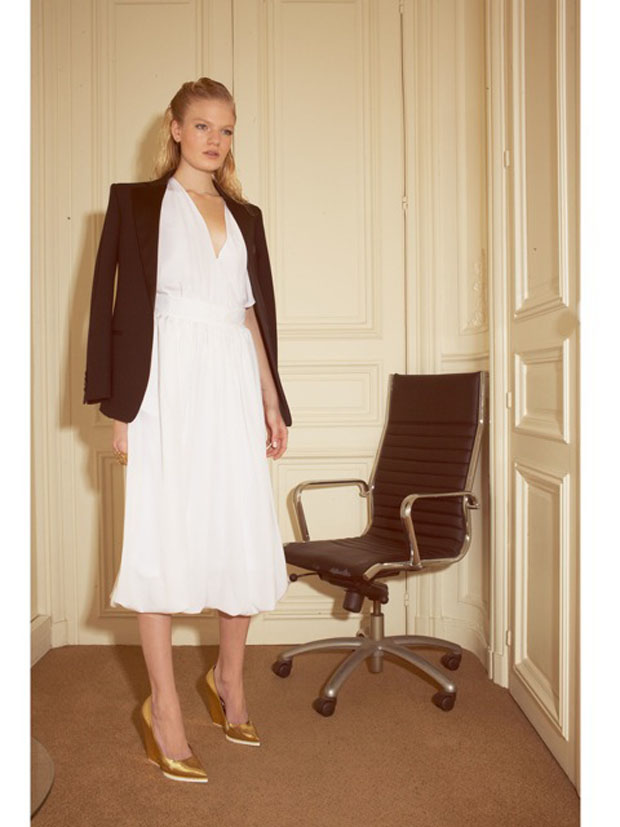 CELINE attacks again with this wonderful shoes that are becoming a classic, they are the star of the future,  real women are still scared of what this shoe represents . We validate them , they are the key of the modern look, we totally see them in a couple of years , and this is why we are doing this editorials, to explain girls in real life that futuristic pieces can be worn in the street, and you shouldn't be scare of change.
Dress: CHLOE cruise collection 2013
Jacket: Smoking by CELINE
Shoes: CELINE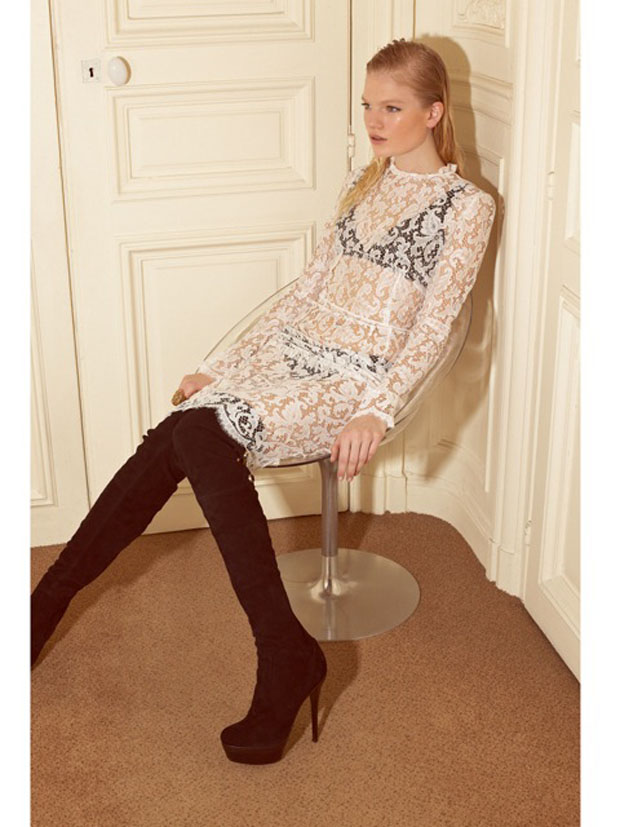 From the office to a night out, the little white dress in lace by DOLCE AND GABBANA, paired editorially with ERES underwear. She is wearing the high boots by RACHEL ZOE.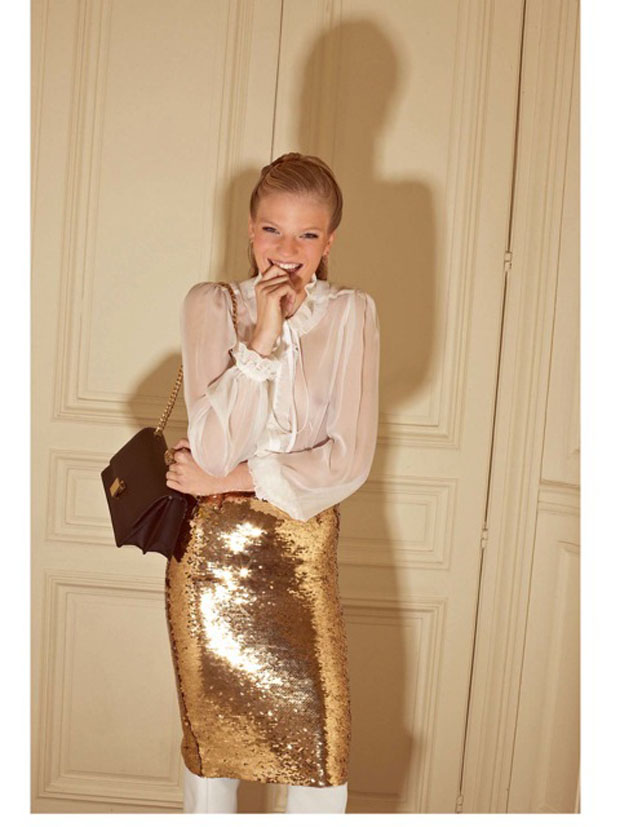 Funny and Glamourous, this look is the perfect way to go out right after a long and hardworking day.
Shirt: DOLCE AND GABBANA
Bag: CELINE
Skirt: DOLCE &GABBANA
Shoes: GIUSEPPE ZANOTTI( high boots exclusively made for ATLF)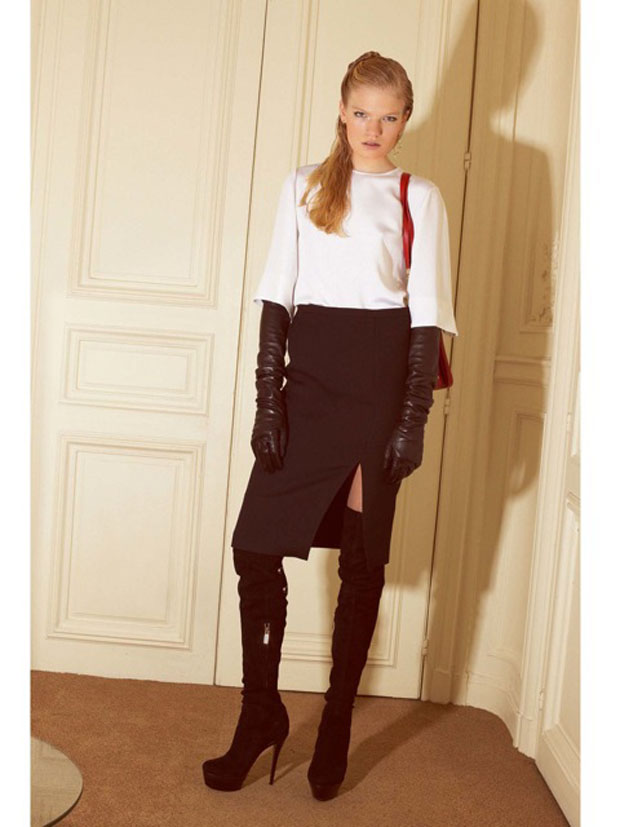 Located  in an office space over the Boulevard des Malesherbes, SOPHIE LEVY accomplished her second editorial shot exclusively for this magazine. SOPHIE picked photographer BRIAN KEITH to shoot this beautiful german girl from VIVA models, she is ELEONORA, and she is represented by MARGOT GUELFI, a great agent chez VIVA.
SOPHIE  wanted to explore the office side of looks, bringing the sex appeal and the business attire together. This is a result of blending both strong forces, the sex and the power, altogether in one woman.
ELEONORA BAUMANN, our model, is ready to get out of her office, and she is wearing the high boots to go out; she just changed her office shoes and she is ready to have dinner at Caviar Kaspia, which is accross the street. To get her out of the classic look, the boots give the femenine and sexy touch she needs to go from day to night.
Top: EMILIO PUCCI
Skirt: EMILIO PUCCI
High Boots (Cuissards): RACHEL ZOE
GlovesGIVENCHY
Bag: CHLOE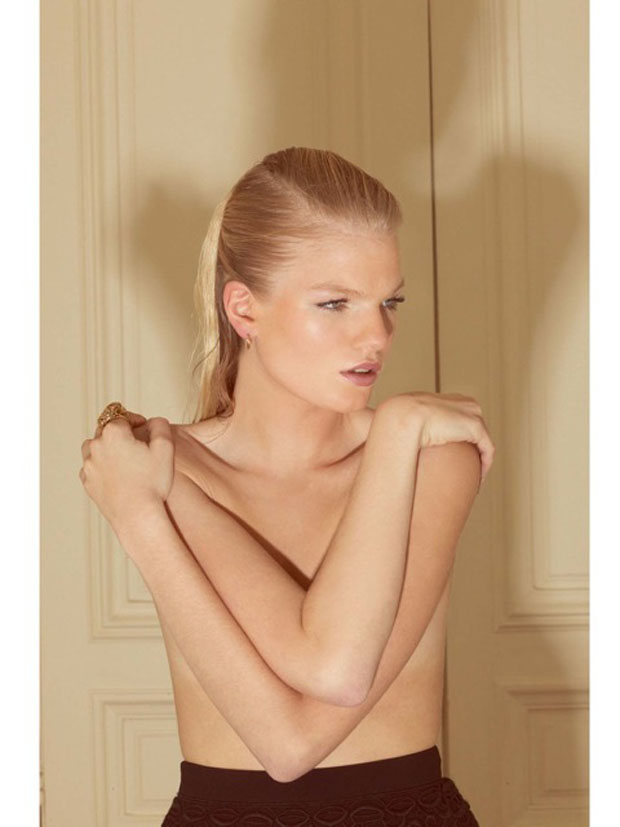 This is an artistique side to the whole theme, a romantic and sexy image that explores the sensuality of the girl, to bring Eleonora's raw beauty out.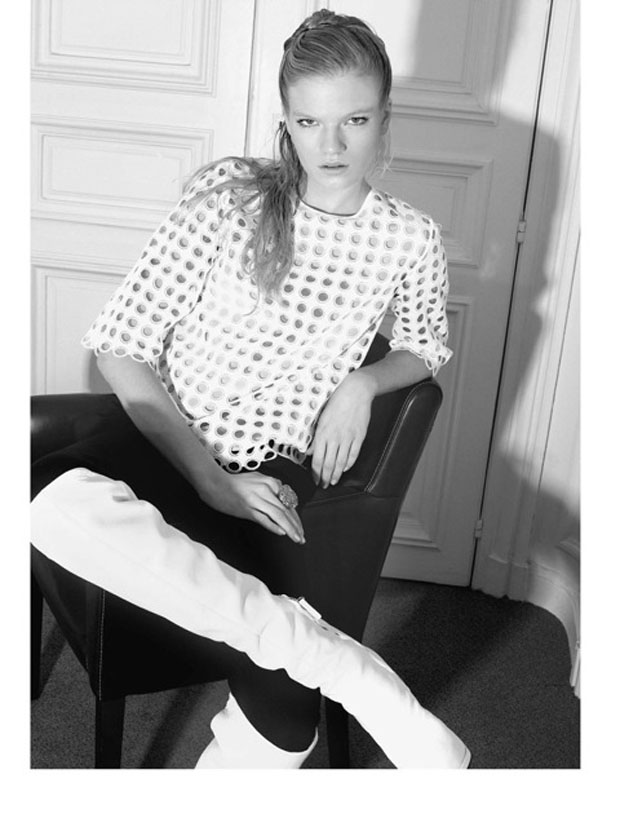 BRIAN wanted a raw look for the girl, and we kept her clean simple, in fact , chic. Already ultra mega dressed, this girl needed to look as clean as possible to contrast the structure of the clothes.
Top: CHLOE cruise collection 2013.
Pants: GIVENCHY  in crepe de laine.
Boots: GIUSEPPE ZANOTTI exclusive model for ATLF.
Ring: ROBERTO CAVALLI VINTAGE COLLECTION.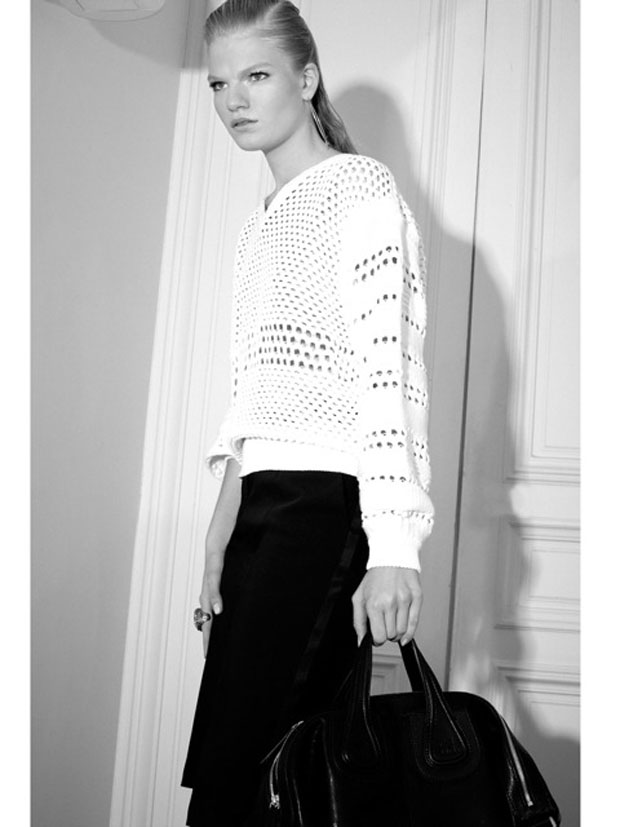 Arriving to the office could be the beginning of a charged day; after the gym, or going to the gym could be easily transported in this wonderful GIVENCHY bag, in black leather.
The top is oversize suede by CHLOE cruise 2013, in white crochet.
The shorts are by DOLCE AND GABBANA, bermuda style shorts that bring modernism to the look, and to close this picture; SOPHIE added a ROBERTO CAVALLI VINTAGE COLLECTION ring.
Credits:
Photographer :   BRIAN KEITH
Stylist:   SOPHIE LEVY
Makeup/Hair:   SERGIO CORVACHO
Makeup/Hair/Fashion Assistants:   OUERDIA SENOUCI, CHRYSTEL AYGALENQ
Production:   SERGIO CORVACHO & SOPHIE LEVY