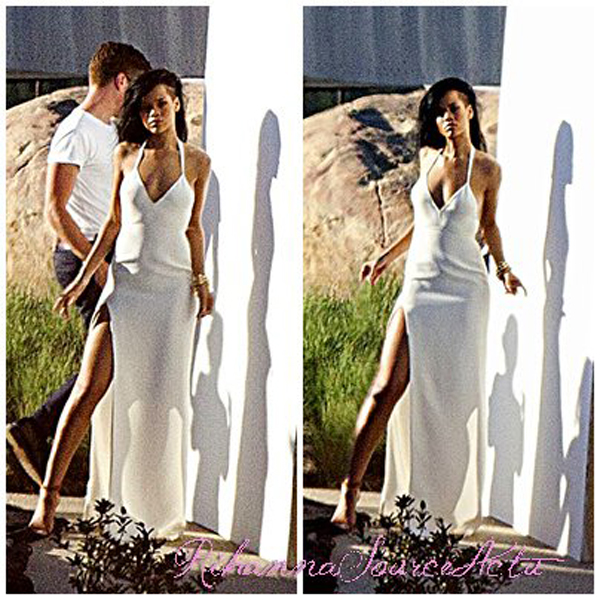 This girl is a real example of personality, she is a chameleon and she is not afraid of exposure, and she expresses the style of the moment. We can tell that she is confident apart from being a recognized talent. RIHANNA evolves , multi grunge, multi talented, multi glamour, multi everything, and we can see through her soul.
To be in is not necessarily to do all the things , and to imitate what she does. To be in is what she does as a unique person and what she does is always with confidence , and with a sense of style that belongs just to her. She can do anything , and it will be always her. The identity she carries is so powerful and so to herself that makes admire her as a role woman, complete and happy with herself. Apart from being naturally beautiful, her aura and sense of herself is inspirational for women of all races, and ages.
The dress is just shows RIHANNA at her best; with a modern seventies touch, modernized and relaunched by her with that severe haircut that makes it modern. That's why she is in, she took the modernism to a next level, and she keeps evolving. The mix of gold and white, just a dream of styling come true.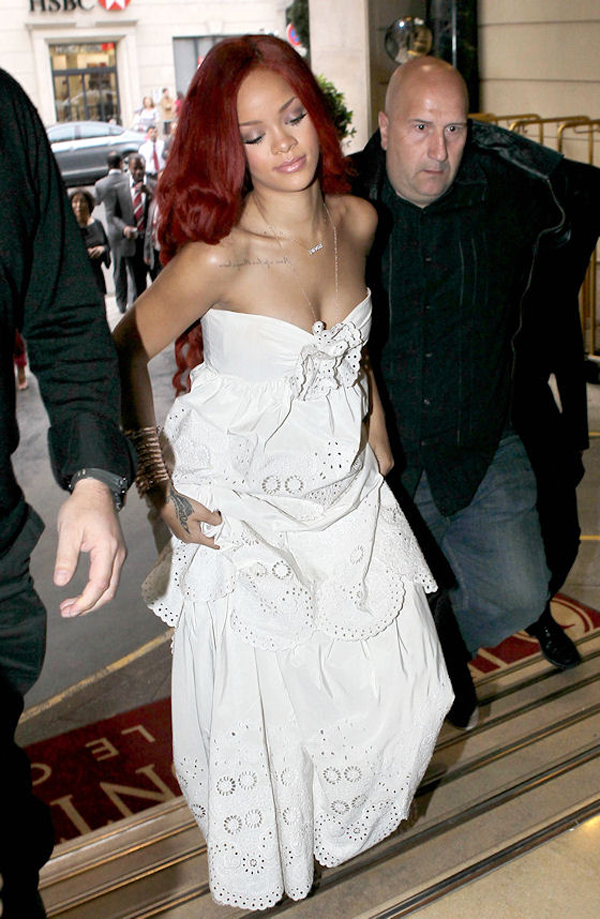 ROMANTIC RIHANNA, this is very french country side , a little bit hippie, and show a RIHANNA that falls in love, but the strong point: THE REDHAIR; she shows the strength and the fierce personality by flaunting a hair color that not necessarily works on everybody, her attitude sticks to her, and the dress comes alive.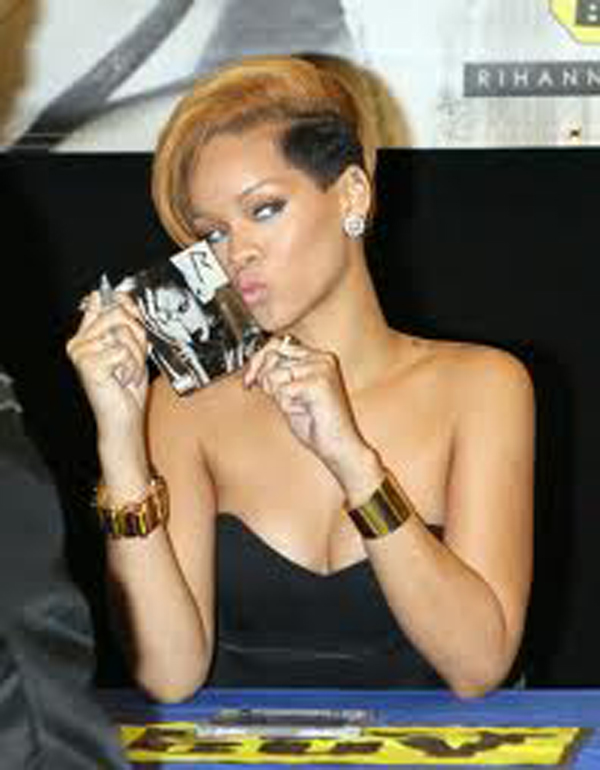 Just the rock'n'roll style , but she does not forget the gold touch, the neo-punk haircut and the light shade of her hair shows a true RIHANNA, she knows how to exploit her style, and she is confident changing, her energy is her look. The artistic marriage of fashion and music comes alive with RIHANNA,  and that should be our motto too.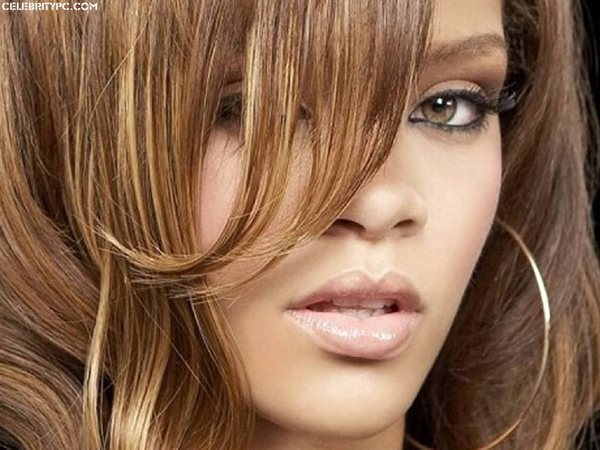 THE BEAUTY:
She is in touch with the exotic side of thing by imposing the big hoops, everyone in PARIS is back in love due to her, and we are conscious that copying is not exactly the way we would advice a client, but we couldn't go against RIHANNA, a woman that flatters even the hardest and strongest piece of wardrobe.  HE hair and makeup is not pretentious at all, she is just sexy and flatters her green eyes as the strongest point of her face, with a sexy nude lipstick we conclude that she is here to show us to be happy when we show and ooze sex appeal.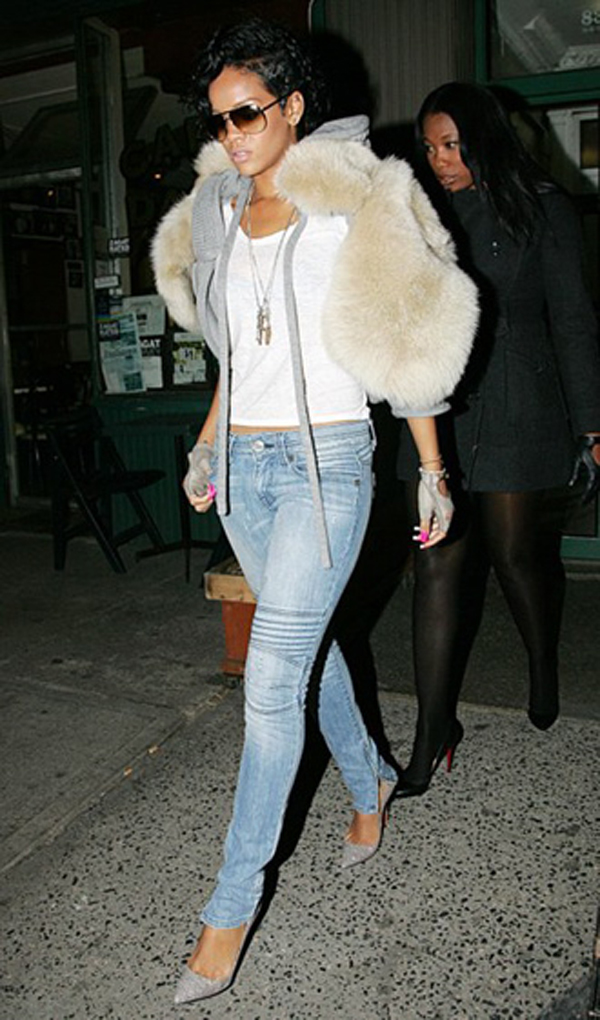 The day to night look, she associated  the grey, the denim and the fur, this is a ellaborated grunge look, and she made perfect a look so hard to carry by so many women. She studied the look, the fur brings a touch of elegance, and she is not hiding her body, she is what she is physicaly and she assumes it very well. The shoes, is a classic touch that has the ladylike look, and the tshirt is the quintessential item of sexy.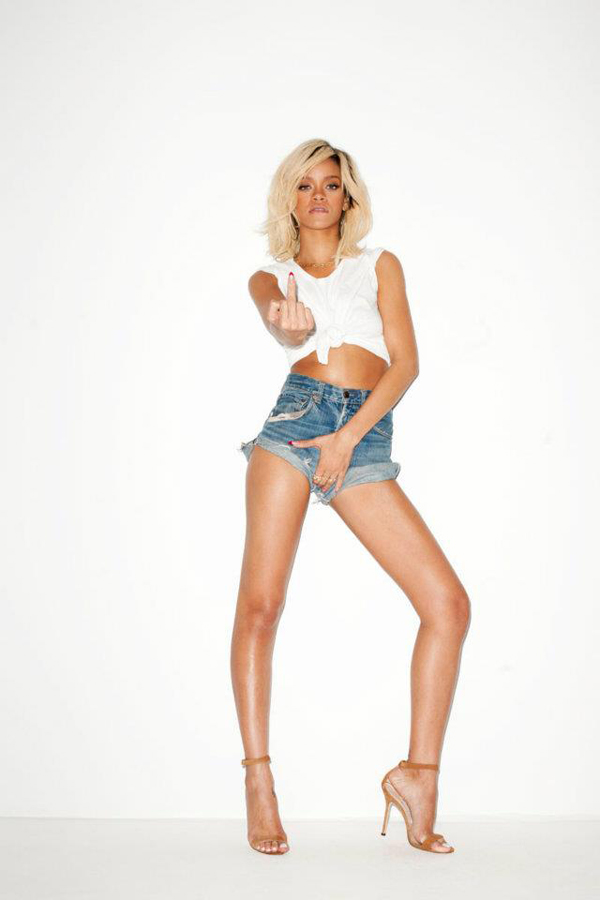 LOVE LOVE LOVE; RIHANNA , here, shot by TERRY RICHARDSON, this is the image that makes her better than be « IN ». The pose is so vulgar, that could scare people, but in this image, and this exposition of herself, believe it or not; she looks beautiful,  and even chic, she is again sure of herself, and TERRY is a master of mixing vulgar and chic, he mastered the style, and he deserves his credit.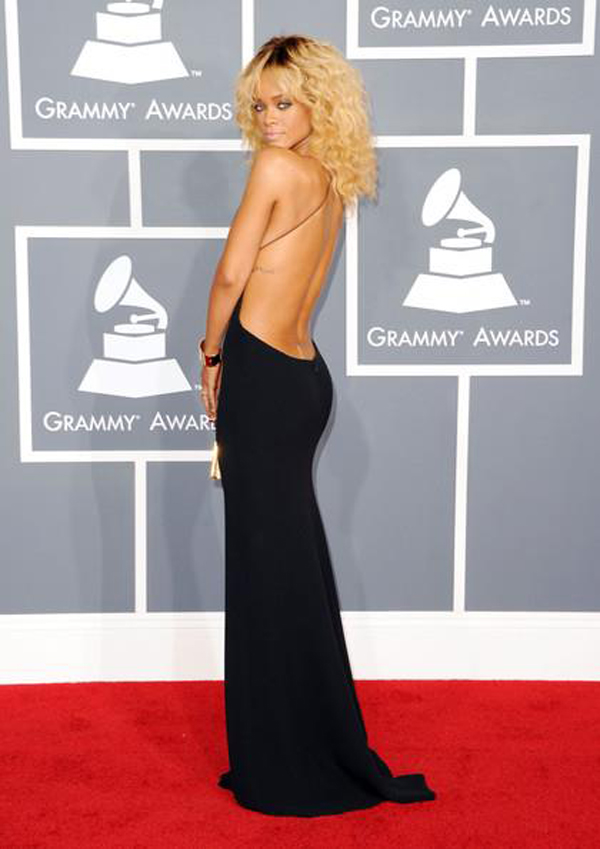 THE RED CARPET, femenine, sexy, a little bit of the influence of the seventies icons, like MIREILLE DARC, she knows how to play with her body, she knows how to manipulate the trends of the moment, she plays , and it is so funny at the same time because it totally works for her benefit, influencing fashion, and making designers dying to work with her. For all this reasons , and many more than we are sure we will know in the future, RIHANNA is here to stay and we will see her even more, and she will continue to grow as the star she is.
LOVE YOU RIHANNA, we hope to meet you one day in person, and tell you all the compliment that you deserve, and we are talking about you as a leader , as an icon, and as a role model that deserves to be followed as a reference.
SOPHIE LEVY & SERGIO CORVACHO