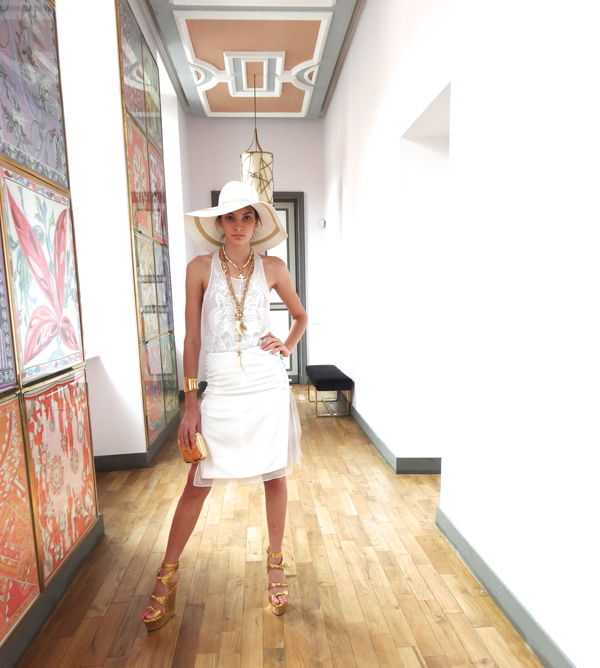 My dears friends and followers, I am back from Milano with the most exciting news. I am convinced and I am confirming that EMILIO PUCCI was the designer of the season in MILAN. I went to Milan to do the shopping for the boutique , and I found an exciting and exquisite array of new delicious accessories.
It is a movement that comes stronger than the deresses this season. The designers are taking it slow and safe; which made all the accesories designer gain weight and space in the showrooms, I am just in love with what I am seeing. A lot of gold, a lot of references like the greeks, the goddesses, the warriors, the new comeback of the gladiator sandal, who was a very exciting and new way of wearing a piece that was overexposed a couple of years ago.
PETER DUNDAS is affirming that he designs for us; for the woman that works; the woman that loves and the woman who does both. He loves women, and I am so happy I found that I am in love with a guy that loves us. Enough of minimalism, enough of no makeup, enough of astersm and comunists looks, I am tired of that, it is so nineties, and sexless.
When the outfits are trendy and modern, everything can be associate to it.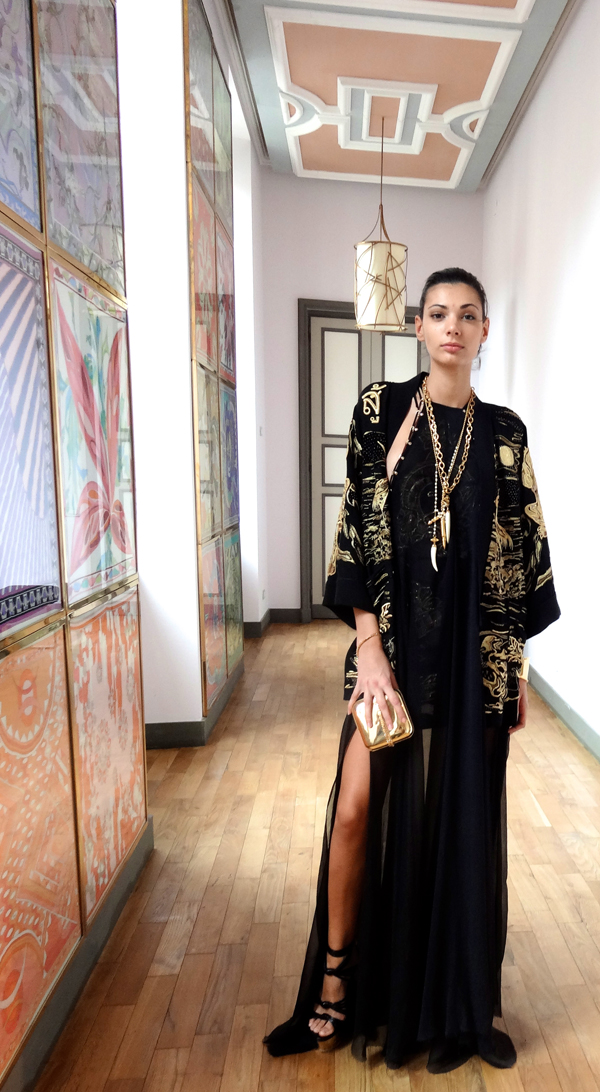 I had so much fun at the EMILIO PUCCI showroom, I was able to play , and dress model from A to Z, I did enormous work ; just imagining the runway looks that lacked of accessories, and I picked a handful and shiny golden purses and neclaces to give a hint of feminism ; just what EMILO PUCCI needed, a golden punch. That's why I bought almost the entire collection, and I am proud to follow my instinct, when I feel something, I just go for it, I go with my guts, and I don't let secind thoughts come to perturb me.
Here this black dress made it to my picture collection just because there is everything in this combination, I associate the sheer halter mini skirt dress with the kimono, this pieces showed diferently on the fashion show, but I had the courage to associate them because I am seeing my client, the real life woman that really want to be classic and appropriate for the first part of the evening, and then the seductress that will have a drink with her husband later on at home in the intimacy. I was in heaven when I did this look, surprisingly all by PUCCI, all beautiful and timeless.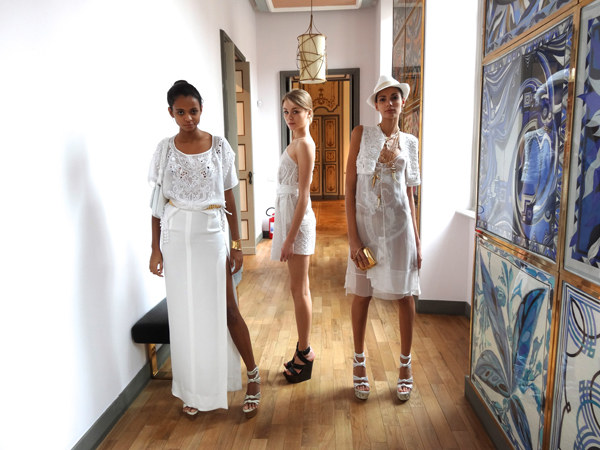 This is the energy of PUCCI that we can have in two minutes, this was a very quick fitting I did as well in the showroom, where I had an emotional shopper moment. I also confirm that EMILIO PUCCI can totally pair his designs ; his exauisite designs with GIANVITO ROSSI's shoes; they are so hot and also so flattering to all women's silhouettes, that is a sale together all at once.
Again, white; the color of the summer, the color of pureness, makes an strong impact this season by mixing so many patterns, so many fabrics and details, I am in heaven literally!!!. The presence of the snake in gold in almost all the patterns, is a proof that sexiness is back to stay, and I love the variety of it.
I decided to accesorize PUCCI in a way that we can take the runway looks to the street, to the parties , to the office, I mean , everywhere. I have the feeling designers don't want to accessorize, to take the risk, to explore and make their women sexier, and I let myself go with the accessories and start the play time;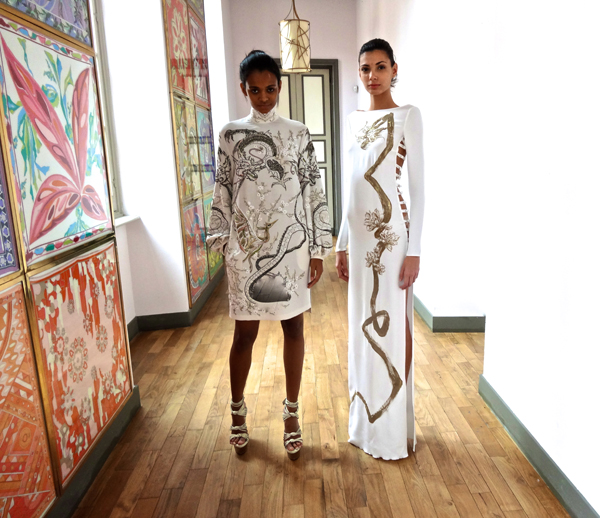 PETER DUNDAS for EMILO PUCCI took definetely a risk, his women bit the Adam's apple, this woman is looking for love and excitement, is a woman who is not afraid to meet men and live their strong emotions .
Fashion editors are not the only ones with the right to get dressed, to get photographed;, to be claimed as star icons, we can achieve that too, and we can discover our own self with a little help of fashion. Fashion is not unfair; there is everything for everybody, and this fashion insiders are making us scare to find our own identity by blocking the possibilities with their crazy and nonsense looks, I don' t want to give examples , the list would be limitless. Let's concentrate in the positive , and start looking fashion as a tool, not as a goal.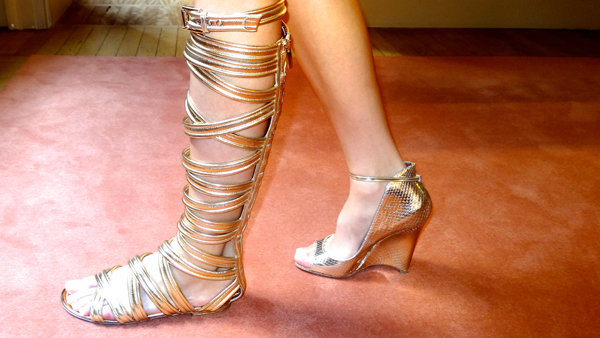 Seventies are back, with a twist, with a diferent take, a diferent heel, a diferent twist, and I love it, I crave it, it represents the change, the new woman, the new silhouette is not alone, it is in this showgame next to the amazing shoes I found in MILAN.
Here  GIANVITO ROSSI 's new take on the gladiator, this is a sandal that will make a big comeback, like I said before. I happen to know that ALTUZARRA, the NEW YORK based designer has his shoes made by GIANVITO ROSSI. The ALTUZARRA gladiator wasn't my favorite this season, but this one in gold just makes me fly of desire, it is the perfect shoe for the summer, when sometimes to much accesories could be a bit much, the presence of this sandal is just the touch we need , for a miniskirt look, a pair of shorts, or even a long dress , for example an evening out in IBIZA.
The shoe next to it , the high heel that also makes a comeback from the seventies, has an elongated heel, taking it in a higher way than years before.  The phyton in gold also makes a statement , a sexy way to relaunch the sexy seventies shape, a little CHARLIE's ANGELS here, and a  little DALLAS there, in conclusion a lot of sex appeal to flaunt.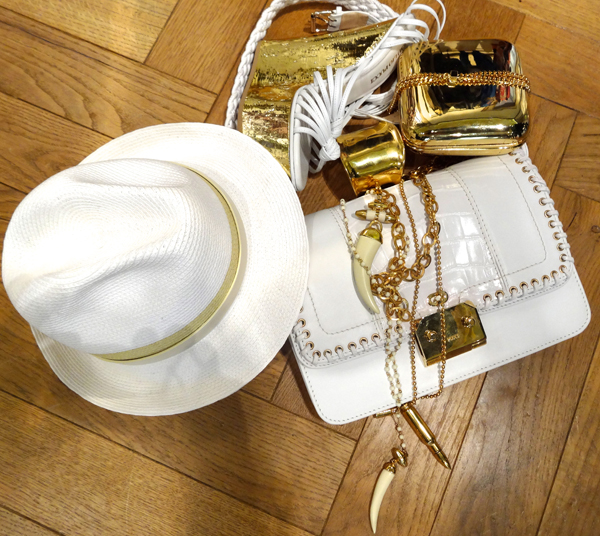 I could see a CELINE DION still life here, but if you separate all this items, they make a strong presence by their shape, by their way of being by itself, they are the perfect accessory for those beautiful clothes by EMILIO PUCCI, they happen to be PUCCI as well, and they look amazing together.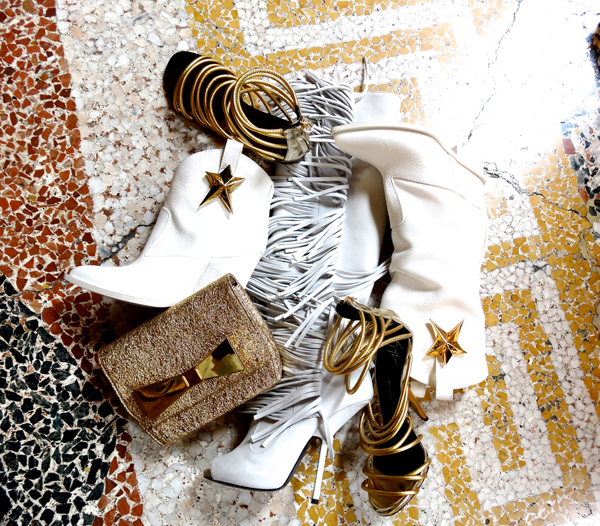 CHEERLEADER is what this still life screams, we can see the fringes; the gold, the stars , the buckles, the ribbons, all this details that women love, that I love and that will make the dress look as stunning as your tan, as your summer glow, this is exactly what we need , what we want for summer, I am so proud to tell the summer is ON!!! and LIVELY?
SOPHIE LEVY & SERGIO CORVACHO